Time after time over the last six months, the Hong Kong government has had a choice between making things better or worse – and consistently chosen the latter course. We all know the administration is incompetent and cut-off. It is also, of course, controlled by a higher power. As it says here, officials…
…know what ought to be done but they are not allowed to do it. It is perhaps a tribute to the care and caution which goes into the selection process that the entire team seems to be willing to go on working, or pretending to work, on this basis.
An intriguing question: have they been press-ganged, blackmailed, or lobotomized? You be the judge…
Predictably, Carrie Lam's Policy Address is another missed opportunity to gain a few shreds of public respect. But it is so inept as to surprise even hardened cynics. It almost looks as if someone is deliberately trying to make the administration as hated as possible.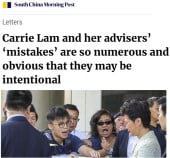 Among the usual array of one-off hand-outs are several subsidies for the small wealthy segment of the population who own cars (electric charging points for private housing estates, and tunnel-fee waivers) and housing measures that look designed to push prices up. These look like Carrie told civil servants to find ways to win over the middle class – if only by 'making it easier to buy homes they cannot afford'.
(It is impossible to work out what Hong Kong's counter-cyclical/pro-cyclical/making-it-up-as-we-go-cyclical housing policies are really trying to achieve. In fairness, it is not only officials who are irrational. What on earth would possess anyone of sound mind and non-billionaire net worth to buy a plain Hong Kong apartment at a time like this at prices like these? Can these people really not think of a single more-economical/better-value/less-imprudent way to use wealth?)
Beijing is setting Carrie up as a scapegoat when the time comes to rearrange the local de-facto power structure. In the finest tradition of the CCP stabbing its loyalists in the back when they are no longer needed, Beijing will (we can guess) engineer her resignation for 'health reasons' and simultaneously leak smears about her atrocious performance. It could even be that the Chinese government's local approval ratings bounce up when it happens. As a reminder of how the CCP prepares the ground before moving in – and as another pro-democracy activist is attacked – here's a quick intro to the Beijing-gangster coalition.