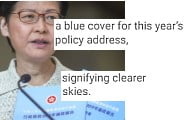 Hong Kong's annual Chief Executive's Policy Address has long since degenerated into an insipid substance-free ritual, befitting the city's largely ceremonial formal political system. Carrie Lam, for her part, has even less imagination about policy than her benighted predecessors. But – here's the key thing – Beijing will not allow her to produce any serious initiatives anyway. So today's speech (which she might deliver by TV link from her bathroom in Government House for fear of marauding mobs) can be safely ignored.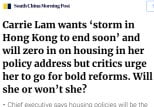 As a fully paid-up establishment mouthpiece, the SCMP has a stab at taking it seriously, asking whether Carrie will Get Real (no need to read unless you're very bored). Of course, common sense says that after 19 weeks of a popular uprising bordering on micro-scale civil war, she must do something mega. Surely, she should at least do some diversionary 'shock and awe' on housing – say, by barring non-residents from buying homes. But forget it. The big exciting leak is… more charging stations for electric vehicles.
I guess people focus on 'What Carrie Should Do' because it's comforting to think someone with a name and a face might be in charge – even if it's someone who has…
…failed to own up to [her] epic incompetence in creating the biggest political disaster Hong Kong has ever faced, with aftershocks tearing apart the city's social fabric and shaking our economic foundations.
Even SCMP op-ed writers are getting exasperated.
Similarly, we have constant chatter about Who Beijing Will Replace Her With. It could be a chimpanzee. It's irrelevant.
The one thing the Policy Address will achieve is to just make everyone even angrier, if that's possible. While we're waiting for that, here's an interesting – partly contrasting, partly parallel – pair of articles…
A former CCTV presenter outlines the CCP's long-term plans for Hong Kong in the context of the 1,000-year mandate of heaven awaiting the Communist Dynasty. It sounds depressingly horrifying enough to be right, including the displacement of unpatriotic businesses with state-controlled ones.
And a Westerner experienced in Beijing's treatment of Christians and other CCP nastiness salutes Hong Kong's protest movement, and takes a heartfelt stand against some of their methods while desperately wanting them to win.