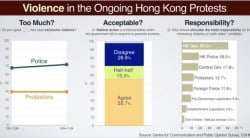 Spontaneous protests of various intensities against the police shooting of a teenager took place in Hong Kong yesterday – during office workers' lunchtime and in residential areas ('angry mobs') in the evening.
Here's a Chinese U public opinion poll on who's to blame for violence. It's a snapshot from one month ago, so doesn't show a trend over time, but judging by that other poll on collapsing trust in the police (also on that thread) and recent events, the government is probably not winning new friends.
One finding: 56% agree and 27% disagree that violence is 'understandable' if the government fails to respond to peaceful protests. This is possibly the most un-Hong Kong statistic I've ever seen.
For another illustration of public support for the movement, here's a great thread on how protesters manage to disappear when the police are approaching from three sides. (Basically, you shelter them in your buildings. How the French Resistance started*.)
While we're at it, 360-degree footage of October 1 on the streets.
With all this happening, Hong Kong's establishment should be feeling under siege. Beijing has shoved the local officials to one side and started to pick on the property tycoons, while the aforementioned angry mobs are torching Bank of China, Starbucks and Yoshinoya.
My own impression, from a limited sample, is that they are in serious denial. Landlord Allan Zeman recently suggested 'someone' must be backing and organizing the movement because vans are delivering supplies to the protests. He is obviously bewildered that the rabble can do logistics (one of our pillar industries, by the way), or that the Hong Kong middle class might have more cash than the CIA. Another sign of denial is all the well-meaning moderate establishment types wringing their hands about 'reuniting' our divided society. Or… perhaps they know society is more united than it has ever been, and seek solace in wishful thinking.
In case you missed it, here's the Hong Kong government's particularly putrid, if mercifully brief, PRC 70th anniversary video. It has a slight touch of 'afterthought' about it, and is clearly aimed at pleasing higher-ups somewhere rather than stirring the hearts of ordinary folk. Lots and lots of Zhuhai Bridge, High-Speed Train and Xiqu Centre, but not much in the way of actual Hong Kong people (other than simpering actors). Presumably, citizens were otherwise engaged.
Ah, here's what they were doing: the Alternative 70th anniversary video – same soundtrack, but with more pertinent visuals.
*On the subject of the Resistance, an excuse to recall the most amazing album cover ever.