The leaks about the Chief Executive begging Beijing to make concessions and to let her quit this nightmare seem to have had an effect: Carrie Lam announces the withdrawal of the extradition bill.
The consensus is 'too little, too late'. Still, it's Hong Kong's fourth defeat of a Mainlandizing measure since Article 23. Once again, the shoe-shiners who recited the withdrawal-is-impossible line (and Beijing's propagandists) are left looking stupid. But this time, there is no going back to normal.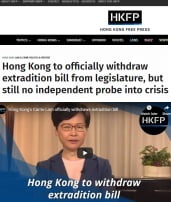 Two and a half months ago, Carrie's announcement would probably have calmed the situation – appeasing mainstream moderate public opinion and somewhat isolating radicals. The CCP refused this obvious move, partly no doubt as a matter of face/principle, but mainly for fear of rewarding opposition and encouraging more of it.
Instead, in the intervening 10 weeks, the CCP geniuses wielded such weapons as out-of-control police, triads, mass-arrests and intimidation of companies like the MTR and Cathay Pacific. To the extent that this has angered/radicalized mainstream public opinion, the withdrawal gesture will now very possibly have the exact effect the CCP originally feared, and consolidate, if not embolden, anti-government/Beijing sentiment.
Under pressure from the leaks and the impending October 1 celebrations, Beijing saw no better way out. But they want to use the retreat as a chance to reposition, by redefining the enemy. Recent official statements have suggested that Hong Kong's peaceful anti-bill protests are 'acceptable', but radical splittist activity is criminal and must be crushed. The implied threat is that this concession over withdrawal will be followed by more, rather than less, oppression of anti-government sentiment – on the grounds of national security. We've taken the bill away, so anyone still protesting must be evil foreign-backed color-revolution subversive fanatics, and will be treated as such.
If, as seems likely, the 'mainstream moderate opinion' boat already sailed, this points to an increasingly angry and rebellious population. Even if the authorities drive dissent off the streets, it will grow in new forms in housing estates, schools, offices, and social media.
The CCP has had 16 years (since 2003) to detect a pattern in which the more it tries to tighten control over Hong Kong, the more the city will resist. Indeed, the mid-2019 alienation of the middle-ground probably built on anger at the politicized prosecutions, jailings and purging that followed 2014's Occupy. And the only response the Party can conceive of? Clamping down yet more.
Latest purge victim – Cathay Pacific Chairman John Slosar. He once gave me this T-shirt…