Reuters have released a transcript of Hong Kong Chief Executive Carrie Lam's leaked comments – hereby named Dialogue-Gate.
Two obvious questions. One: was she being completely candid with her audience of intimates, or was there some duplicity there? (Does she really want to apologize?) Two: even if she thinks she knows what Beijing is thinking, could it be that they have lied to her? (Do they really see this as a national security issue? Care about international opinion? Are they really determined not to send in the PLA?)
Among her comments, Carrie blithely mentioned that Beijing would happily watch Hong Kong's economy deteriorate until the anti-government protests end – anything but make concessions. She added that, after the dust settles, Beijing might come in to help Hong Kong in some way. It was at that point she mentioned Bay Area. In the transcript, she says:
…Hong Kong will have to go through several stages. The first is stamping out the violence, maybe doing other things in time to come which at the moment are not very available. Having gone through this stage, the next stage will be, in accordance with the bible, would be resurrection … thereafter we want a reborn Hong Kong and a relaunching of this Hong Kong brand.
The 'other things … that are at the moment not very available' sound intriguing. There are some murmurings that the coming Policy Address in October will include Amazingly Radical Warm-and-Fuzzy Livelihood Reforms of some sort. But the speech will be drafted by the usual bureaucrats, so expect Internet subsidies for all seniors with one leg, etc.
Common sense says that after the 'violence has been stamped out' Hong Kong needs a more representative system of government. We can be pretty sure, therefore, that the Chinese Communist Party will make it less representative. The tycoons and bureaucrats will be shoved aside, and a more tightly Beijing-controlled administration will come into place. The CE will be a figurehead, so the 'Who will it be?' debate is irrelevant.
That administration will, no doubt, improve the livelihood policies a bit. But it will also impose more Mainlandization – Internet censorship, politicization of the courts, National Education in schools and purges of dissidents from universities and companies. (David Webb calls the latter 'like McCarthyism in reverse – those loyal to the Communist Party could remain'. There could be some severely depleted payrolls.)
The recent – surely irreversible – collapse in the standards and image of the HK Police is a pointer. The Hong Kong of tomorrow will be downgraded in terms of institutions and way of life.
This is surely Beijing's long-term aim, anyway. The CCP obviously resents Hong Kong's historic success and separate identity (hence the obsessions with how the city is 'helped' by the Mainland, and with the Bay Area vision). It needs to prove the Mainland model is superior – and what better way than by running Hong Kong down?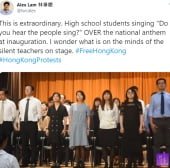 But first we have to get to Carrie's 'violence has been stamped out' phase. The more Beijing, the local eunuch-administration and the HK Police try 'stamping out' this – mostly peaceful – uprising, the more they bolster it. How do you even start to restore a legitimate government in Hong Kong after so thoroughly alienating its population?
Which brings us to a high-school assembly – all rise for the national anthem.