For years, members of Hong Kong's establishment, if pressed on the subject of representative government, have wrung their hands and lamented the 'lack of talent' that so sadly makes democracy unrealistic here.
There are multitudes of Hong Kong people who could run the city better than the incompetent mediocrities we have known for the last 20 years. To take one at random, a certain Hephaes Chau pops up out of nowhere this morning on the SCMP letters page.
It is not that there is a lack of talent – but a lack of people with brains and integrity who will overtly kowtow to the Chinese Communist Party. (OK, that's not so much a 'lack' as a logical impossibility.)
One of the many amusing ideas floating around right now is that once we get past all the street protests, Beijing will see the error of its ways and expand participation in Hong Kong's political process beyond the small circle of dimwit shoe-shiners. In reality, Beijing has no doubt given up in despair at its own inept loyalists, and will run things directly. This is vividly clear from the cruel public torment of Carrie Lam. Some 'elites' who are sufficiently obsequious may be rewarded with figurehead roles, but in other respects from now on they will join the rest of us as outsiders.
Soon after the 1997 handover, then-Justice Secretary and devout CCP follower Elsie Leung used to refer to Hong Kong's 'new order'. The real new order is now coming into place.
There are so many things we can look forward to, but here are a few.
Chinese security already has lists of names, but surveillance will surely become much more comprehensive. It probably won't just be at the border that they check phones.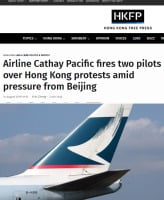 Expect loyalty tests for civil servants, teachers and indeed for private-sector businesses. Cathay Pacific has fired a few staff for taking part in protests because Beijing officials (perhaps explicitly) demanded that the company do it, to instill fear not just among the airline's employees – but among all companies in Hong Kong that think they can get away with being smug cosmopolitan liberal smart-asses that wouldn't dream of telling staff what to think.
And then we've got that independent judiciary. They've just let Benny Tai out on bail. They will be getting the memo some time.