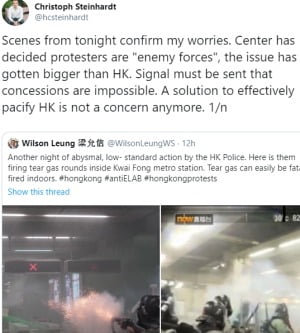 Anyone thinking that this would be the weekend when Hong Kong starts to calm down was even more wrong than usual. It turns out that this was the weekend when Beijing took full control of the battle against protestors. To save time and space, here's a list of yesterday's injuries, police-gang collaboration, MTR station tear-gassings, etc from Nathan Law.
Beijing's thinking is summed up in this thread from academic Sebastian Veg. The Hong Kong government will make no concessions. Instead, Beijing will employ physical force and United Front mobilization to wear down and defeat the protests.
The police (and allied gangsters, and probably agents provocateurs) will use greater levels of violence and large-scale arrests, to be followed by prosecutions aimed at imposing maximum punishment.
Companies that are insufficiently supportive of the regime will be pressured into openly siding with the government, as already seen with demands that Cathay Pacific exert ideological discipline on its staff, and hundreds of tycoons sign a contrived petition. The civil service (including RTHK), universities, professionals and other supposedly independent institutions will presumably come in for similar treatment.
Beijing will also order a campaign to (as Veg says) "…turn HK public opinion against the movement; isolate the 'violent extremists' from the 'patriotic silent majority', especially highlighting economic impact of protests…"
This is where Beijing's (publicly stated) strategy falls apart. It assumes the opposition is a small group of extremists backed by foreign forces, and the bulk of the population are on the regime's side.
The government could have split moderate public opinion from radicals on several occasions in the last two months by making symbolic concessions. Instead, they showed open contempt for public opinion or simply went silent while the police increased their use of violence and apparent coordination with thugs. This has directly affected residential neighborhoods and innocent bystanders, and – so far as we can tell – significantly alienated the mainstream of the community.
That leaves the Chinese Communist Party now attempting to 'crush' an opposition comprising much or most of the population. The local administration and cops have lost so much credibility that alarmist claims about damage to the economy – or even drastic 'false flag'-type operations to frame protesters – will probably be counter-productive.
If this carries on, we will get fatalities and, in response, a real shut-the-city-down general strike with half the population on the streets.
The CCP apparently cannot be seen to give ground: it must win, and the opposition must lose. However, the word is that Beijing has ordered the local administration to draw up some (really really) serious reforms in areas like housing, welfare and even in transparency of policymaking. This sounds like too-little-too-late, and beside the point – not to say hard to imagine after 20 years of relentless official stupidity on these issues. But if presented sooner rather than later, with Carrie Lam and puppets acting in the role of repentants who have seen the light, it might cool things down a bit, until next time.
Either way, tighter CCP control over internal security and what we might broadly call ideological guidance for business, public sector and civil society look like a given – after this weekend.
In the spirit of trying desperately to be optimistic, here's a cheery article about how Hong Kong has always bounced back.