I spoke to someone involved in managing Hong Kong family wealth – of the serious, fairly old, US$100 million-plus variety. The investment philosophy for the dynastic fortune concerned is apparently passive, boring and very long-term. Then, last Monday, they suddenly pushed the panic button, selling just about all their local stock portfolio and switching their HKD cash into US dollars.
I declare the weekend open with a bumper selection of recommended reading…
Erin Hale in the Independent checks out Hong Kong protestors' guerilla-style tactics and the dismal (and apparently only) responses that the police have to offer …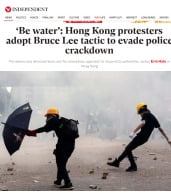 One civil servant, who attended the rally and did not want to be named, said afterwards that he thought the police had become "drunk with power" as Lam's administration had lost control of the force. He was also angry that police had been filmed in riot gear without identification, making disciplinary actions impossible.

"They just make arrests any time – even of people who did nothing but just shout at them," he said.
The cops' strategy (no doubt Liaison Office-ordered) has become 'arrest and tear-gas everyone into obedience'. One of the SCMP's bosses surprises readers with an interesting column asking where this leads: how can the courts and jails handle all these cases, and what happens when you have thousands of political prisoners?
In Newsweek, David Zweig of HKUST provides a concise how-we-got-here and what-might-be-next…
Only if both Beijing and the Hong Kong government understand the young people's determination, and stop the continuing march toward greater authoritarianism, can the current crisis in Hong Kong be resolved.
Understand the people and lay off the authoritarianism – so that's a 'No', then.
The Jamestown Foundation has done a series (linked) of how the CCP has extended its influence in Japan and Singapore, and now it's the turn of Hong Kong…
For the CCP, Hong Kong represents an imminent existential threat: it is a part of China, but it is not under full PRC administration … CCP influence operations appear to be…far less successful with the current mainstream of Hong Kong society … Beijing's strategy has obtained influence in Hong Kong, but not affection.
Antony Dapiran reviews Richard McGregor's book Xi Jinping: The Backlash from a Hong Kong angle, including a quote that sums it all up so well it deserves extra special emphasis in loud glaring underline…
… for all the talk of extradition laws and universal suffrage, for all the hand-wringing about rocketing property prices and social inequality, there is a largely unspoken subtext to the recent protest movement — and perhaps to the entire history of protest in post-handover Hong Kong — and that is that the protests are really only about one thing: Beijing. As Gideon Rachman, writing in the Financial Times, put it succinctly, "The essential dilemma is that ordinary Hong Kongers have no desire to live in an authoritarian one-party state."
Geremie Barmé translates Lee Yee's column in Apple Daily on the rise of the 'Revolution of Our Times' idea, which is about…
…a fundamental change in the political direction of the city that is presently being imposed by the Beijing and Hong Kong Communist authorities.
There's something about the tone of this – or maybe I'm imagining it: echoes of Thomas Paine's Common Sense. This page also has links to similar recent columns, classified under 'Hong Kong Apostasy'.
For a really cheery read, Kerry Brown proposes that the CCP sees the decline and breakdown of Hong Kong as desirable – as it 'proves' the Mainland system of governance, uncontaminated by Western capitalist democratic nonsense, is superior.
From within this worldview, Hong Kong absolutely reaffirms the long-term impracticality of Western capitalism … it also proves that democracy and Chinese culture don't go together.

In a strange way, the fact that Hong Kong seems so riven by problems will be taken by Beijing not as a criticism of anything it has done but as proof that the political and administrative legacy of British rule was always unsustainable. This is just a matter of fate, China's leaders believe; all they have to do is to see that the old Hong Kong breaks down in a managed way.
This idea will come as a shock to the old-style 1990s-era optimists who blithely assure us it is in Beijing's interests for Hong Kong to thrive. To anyone who recognizes the CCP's agenda as the gradual absorption of Hong Kong into the Mainland, it will come as no surprise. To those of us who live here and feel the deterioration in basic quality of life (let alone the institutions), it's obvious.
In a twist, the author adds that the opposite might be happening – that Hong Kong-style political awareness and dissent are bubbling under the surface in the Mainland.
An Atlantic article casts Carrie Lam as one of Moscow's puppet rulers in Cold War Eastern Europe. This sets us up for the 1981 Poland solution, in which Beijing would…
Prompt the Hong Kong authorities to declare martial law, deploy their police forces with greater brutality, arrest the protest ringleaders, grant a new round of cosmetic concessions, and hunker down until the crisis passes.
Although, as Beijing knows, this produced Solidarity and ultimately the fall of Communism under Gorbachev. Another historical precedent the authors consider would involve the use of criminal gangs to eliminate opposition – the classic example being in China itself when the KMT employed 'white terror' against… the Communists. They see this as unlikely, too, despite the karmic logic.
On a badly needed brighter note – Little Adventures in HK looks at some of the amazing Hong Kong Protest Movement poster designs.