Another day, another two (or was it three?) protests – hitting consulates, calling for democracy and G20 intervention, and barricading the cops in their HQ again. At some point, such assemblies might get stale, embarrassing or counter-productive – if the government is able to turn public opinion against the protestors. But so far, maybe thanks to the Xi's Face at G20 effect, the gatherings seem to be keeping the heat on our tragic-looking excuse for an administration.
(Maybe ex-Chief Executive Donald Tsang, conviction now quashed, could turn up at some of these demonstrations? Good rehab for his image. Good way to skewer certain establishment foes. Good advertisement for importance of rule of law. Win-win!)
On the subject of keeping the heat on: former Governor Chris Patten helpfully weighs in with some advice for Carrie Lam, including a microscopically snarky reference to not recalling much about her, and a friendly (and I am sure heartfelt) reminder that, 'to the Communist apparatchiks in Beijing, she is disposable'.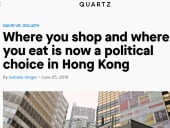 And on the subject of turning your adversaries' strength against them… We turn to an old but treasured subject – the role of Hong Kong's cartelized domestic economy (aka 'the tycoons') in creating an angry populace. This Quartz article mentions consumers who make a point of buying from pro-democracy businesses. Very commendable. It also touches on the possibility of boycotts of companies that are part of pro-Beijing plutocrats' conglomerates.
For some goods and services (electricity, gas, certain public-transport providers), the tycoon-owned suppliers have monopolies, so you have no choice but to buy from them. For others (groceries/personal-care retail), they dominate the market with big chains, but alternative outlets like wet markets and mom-and-pop stores exist.
This strength could be turned against them. In theory, if a third of Hong Kong households (roughly two million people) simply stopped using the Park N Shop/Watsons retailing empire, it would bring our number-one tycoon's (high-volume/low-margin) supermarket chain to its knees.*
For politically correct purists, there is a snag. Much as shoppers might try to divert their business to small independent outlets, urban geography and the need for convenience would also lead them to buy more from the two other big chains. One is part of Hong Kong's original authentic 19th Century opium-trading house, and the other is part of a Chinese state-owned giant (partnering with the UK's Tesco).
But a boycott like this would inflict genuine pain on the targeted family-run conglomerate, and scare the hell out of the others – and, more important, pose an unnerving and unanswerable asymmetric civil-semi-disobedience challenge to the government and the CCP's tycoon-co-opting United Front.
Update: a list of companies whose owners supported the extradition bill, for potential customers' reference.
*Thinking ahead… In some neighbourhoods, Park N Shop would respond by ramping up its loyalty card stamps-redemption thing, which lures overseas domestic helpers (who do all their employers' household shopping) with offers of free low-quality saucepans. You would need to mobilize your maid accordingly.