Here's an amusing line from the CNN report the day after Hong Kong's July 1, 2003 march against Article 23…
Despite Tuesday's massive protest, analysts say it is unlikely to bear any significant outcome on the future of the law.
Differences between the 2003 revolt and the anti-extradition uprising of 2019… Obviously, 'analysts' quoted in the media have become smarter. The movement this time round seems, on average, younger (though everyone seems younger these days). Most of all, Hong Kong's resistance to Beijing has a far more international dimension.
It's not just that the city's foreign business chambers and consuls have (in their respective shoe-shining and diplomatic ways) spoken out more than in 2003. Nor that the overseas press have given the story a lot of coverage. The big difference is that Hong Kong's 2019 pushback against the Chinese Communist Party is part of a bigger world-wide pattern of rising skepticism and distrust of Xi Jinping's regime.
Just in from Oz: attitudes of Australians to China have dramatically soured in the last year. The once-cuddly Panda has jumped the shark in Canada, New Zealand, Sweden and most of Europe, and among various usually-timid Southeast Asians and 'Belt and Road' win-win victims. In the US, quasi-socialist Democrats and Biblical literalist Republicans are in one mind on China as a threat. Hong Kong's protests have also struck a chord in Japan and Korea, where the city's modest diasporas have aroused interest on local campuses. And of course, Taiwan is seeing the situation here as a direct warning.
The key thing is that the world is seeing Hong Kong in the context of a global reaction against China. Perhaps, on a subliminal level, international opinion is not viewing Hong Kong as a region of China, but as a fellow part of the outside world – on the very front line of the fight against this aggressive and overweening dictatorship.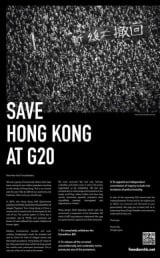 According to the rumour-myths floating around town, Beijing told Carrie Lam to pull the plug on the extradition bill because the fiasco could overshadow the forthcoming G20 meeting in Osaka. And (supposedly) the reason Carrie has been hiding for two weeks in that bunker under Tai Mo Shan is precisely to prevent China losing more face ahead of the oh-so-important G20 gathering. If you consider that the CCP is deranged and insecure enough to take G20 seriously, it makes sense.
Hong Kong's activists are in on this. A crowdfunding effort overshot its target in hours and will now be buying space in the international press to warn of the CCP threat to Hong Kong. I'm no expert on ad-spend, but the choice of media – not just FT, NYT and other Anglo, but European and Taiwan and Japanese papers – looks calculated to cause maximum pissed-Panda-petulance.
Another difference from year-of-sensible-gifted-amateurs 2003: impressively smart activists.