How big was the oh-please-do-we-really-need-another-march yesterday?
To put estimates of the turnout in perspective, the entire population of Hong Kong Island is around 1.4 million. I don't know if it is physically possible for that many people to squeeze into the public areas along the Central to Tin Hau strip – public park space, five MTR stations' worth of subterranean passageways, several main arteries plus adjoining streets, footbridges and malls. It felt like that many tried.
It was so massively huge, even Carrie Lam noticed.
The apology she issued was a wretchedly clumsy, stomach-churning, pseudo-regal mess. But by her standards of warm-and-fuzzy touchy-feely (this is a woman who calls the Gay Games the 'same-sex games') this is like slashing her own wrists.
One of the main reasons for the high turnout was Carrie's previous inability to exhibit an iota of remorse or empathy following two previous mass gatherings in a week. Such arrogance and insensitivity is just begging for a major slapping. Then there's the disastrous performance of the poor cops on Wednesday (is there some anti-Beijing mole in the HKP handing down orders?) And the weird death-martyrdom of a protester. Plus, in the background of course, the extradition bill.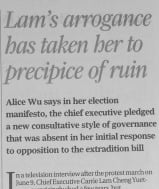 Most of all, the march was surely a reaction to the almost unbelievable incompetence of the people who are supposed to govern Hong Kong. This wasn't a protest so much as an act of collective reality-checking, where the whole population come out to ask: 'is it just me or are these highly paid, smug, condescending officials really such total and utter morons?'
Although the government won't explicitly say so, the extradition bill now joins Article 23 as a matter too toxic to go near. The parallels with 2003 are remarkable. In both cases, the proposals would have opened the door to Communist-style rule by fear across Hong Kong life. Maybe not everyone would be directly under threat, but everyone would notice the impact on law, media, business, education, churches and civil society. One difference is that, looking back, the Tung Chee-hwa administration seemed dimly aware of the existence of a wider community around it.
You would have thought, wouldn't you, that the Chinese Communist Party would step back now and consider – for a change – installing a competent government in Hong Kong able to win legitimacy for itself and indeed for Beijing?
No, of course you wouldn't – stupid question.
A few odd pix you may have missed: here, here and shades of Hieronymus Bosch here…