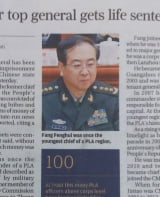 Phrase of the Day is 'a huge amount of assets of unknown origin'. I share PLA General Fang Fenghui's problem. In my case, the mystery possessions include second and third 10-inch frying pans, a number of small toy cars, a tinny Bluetooth loudspeaker that plays music from your tab a whole two feet away, a wouldn't-be-seen-dead-in rugby shirt of the sort worn by overweight gwailos at the Sevens, a couple of juicers too many, a Hello Kitty plastic jar, and much more. Sadly, we are not told what General Fang had accumulated.
On the subject of assets – what is going on with China's acquisition of entire overseas food supply chains like US pork farms, New Zealand dairies, and other agribusinesses in Southeast Asia, Africa and elsewhere?
The policy is no doubt rooted in Beijing's mercantilist, friendless and paranoid mindset. Many countries lack sufficient arable land or water for farming efficiency or self-sufficiency, but they have the confidence and trust to buy their food from overseas suppliers they do not own. It is also a rather neat way of offshoring the environmental damage of intensive agriculture – why cover Henan with more pig poo when you can leave it sloshing around in North Carolina?
Which leads us to today's recommended Twitter thread – on China tech theft, pollution and food. (More background on this here.)