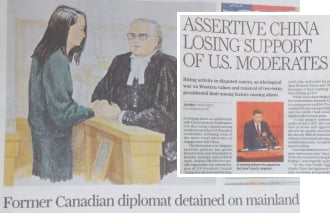 The court in Vancouver gives Ms Meng of Huawei bail ahead of her extradition hearing. This leaves Beijing taken by surprise and with a small bad-timing problem. Following several days' intense ranting and threats to make Canada pay for its impertinence, the Chinese regime had, just moments before, arrested a Canadian former diplomat now working with an NGO. (We will assume he is innocent of any wrongdoing.)
The Vancouver court's decision renders this classic act of clumsy infantile Communist retribution superfluous, premature, embarrassing and generally awkward.
Do the Chinese now hurriedly drop Michael Kovrig with gruff mumblings about a routine check/misunderstanding/nothing to see here? Or do they teach uppity little Canada to love and obey the Middle Kingdom by keeping him hostage on some open-ended flimsy pretext, with the implied threat that he will eventually suffer however much Meng does? Or do they just move straight on to the torture and televised forced confession out of pique and to satisfy the domestic audience they have hyped-up and fear so much?
And what do they do with him if Meng vanishes and reappears back in China (as some China skeptics rather hope she does, as a way to convince remaining naïve waverers out there that they are not dealing with a regime of honorable gentlemen to the manor born)?
Yet another great moment in meritocratic Chinese Communist Party leaders' mystical powers of deep oriental long-term strategic thinking.
I was going to say 'better late than never' – but actually 'slipping rather adroitly onto the bandwagon', the South China Morning Post acknowledges that Xi Jinping is getting China into deep doo-doo reputationally. For years, the Beijing regime made a point of being boring enough to ignore, while assiduously grooming Panda-huggers (with girls and cash at your hotel room door if necessary). Now this conceited and probably rather uncultivated clot is pouring it all down the drain, possibly additionally unnerved by another conceited and uncultivated clot in the White House.
I declare the week half-over with a look at Xi-as-disaster – 'Boot-licking in Beijing'.