Situated conveniently next to the Mid-Levels Escalator in the Soho Tacky Overpriced-Restaurant Themed Hub-Zone – a shiny new Bitcoin ATM. Could it be a hip, ironic art installation, mocking the follies of our era? Or is it a cynical ploy to lure shallow nightlife types who think they will look cool and glamorous using it as the world goes by?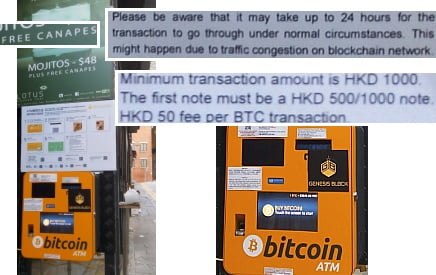 I thought everyone had worked out by now that the space-age techie trendy edgy anarcho-libertarian cryptocurrency thing with its idiotic proof-of-work transactions on hyped-up blockchain was a silly fad, kept going only by gambling addicts/day-traders who thought technical analysis wasn't voodoo.
The device likes HK$500/1,000 bills. If you have a largish stack of 1,000s and you're too – shall we say – shy to deposit them at the bank, I guess this is one way to shift them. Downside: each transaction might take 24 hours (free canapes while you wait); Russian scammers might take it all; rather than being anonymous, there is actually a trail, by design; and the asset you are holding is just electronic blips of no intrinsic worth.
An alternative for the officialdom-averse would be to take your stack of cash to a friendly foreign-exchange dealer, jewelers or gold store in Central, who will be happy to convert it into some other medium if their slice is right. And this way you can help support one of Hong Kong's pillar industries! Downside: no mojitos.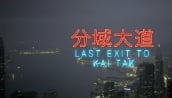 A couple of local items you might have missed…
Belt and Road (like Bitcoin, to be filed by history under 'bullshit') worms its way into the United World College at Ma On Shan courtesy of a local property tycoon's donation. Guess they need the money. On a more uplifting note, a trailer for Last Exit to Kai Tak. This movie seems notable for two (related) things: high production values, and a treatment of Umbrella movement figures in a way that would repulse the pro-Beijing crowd as idolization. Wait for it not to appear at a screen near you anytime.
On the China front… Vice President Pence gets nasty with Beijing; the US Navy ponders a show of force against the PLA; and (this is all happening right now by coincidence, right?) Bloomberg gets a scoop on how China planted secret miniature chips in sensitive Amazon and Apple hardware.
I declare the weekend open with a modest selection of other recommended rabid red-baiting links. Students informing on ideologically incorrect teachers in the Mainland (how long before this comes to Hong Kong?) A good summary on how the CCP has focused on Oz and NZ for United Front operations. And to reassure you that not all Beijing influence-pushing is sinister but rather just about making money, how China is threatening the world's health by promoting primitive supernatural non-science.