Is it just me, or has the 'Belt and Road' hype been dying down lately? One skeptic asks where the infrastructure-related trade flows are. Perhaps one problem, aside from the debt-trap/resources-grabs vibes, is that applying the label to anything anywhere overloads the audience or dilutes the brand.
While we're waiting to see whether the mega-visionary plan withers or gets repositioned, there's always the Belt and Road Restaurant…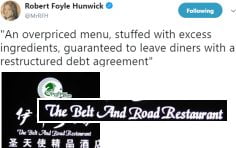 And on Hollywood Road today, I see the Yan Gallery is prominently displaying some sort of glossy Belt and Road coffee-table book…
It has the National Geographic logo on the cover and is authored by one Eddy Li. Apparently the same Eddy Li Sau-hung who is a businessman and cheerleader for Beijing's pet projects – hence perhaps the sub-title's stress on the 'market, sceneries and people' of the exotic and picturesque locations. It's HK$400, if you're interested, and they seem to have plenty left.
In Hong Kong, 'Belt and Road' is rapidly being superseded by 'Greater Bay Area' as the inspiring, mesmerizing and exciting vision-project-concept du jour. One or two members of the city's Great and Good have recently been overheard fretting about a 'conspiracy theory', spread by the ugly likes of Apple Daily, along the lines that the Bay Area Thing is essentially a Beijing plot to absorb Hong Kong into the surrounding region and diminish its identity.
When reminded that former Chief Executive CY Leung (and the South China Morning Post) expressly urges youngsters to forget about being Hongkongers and become happy smiling da wan qu ren, the Great and Good sniff that CY is desperate for a local platform and overdoes things.
They concede that 'Greater Bay Area' offers little directly to Hong Kong's young. But the idea that a downgrading of Hong Kong's separate image might be in line with the Communist Party's crushing of Muslim and Buddhist heritage in Xinjiang and Tibet strikes local grandees as eccentric Apple Daily stuff [roll eyes]. Beijing has pitched 'Greater Bay Area' to them as an opening of the door to large dollops of hot Mainland money – and everything else fades like a mirage on an old silk route through the Gobi.