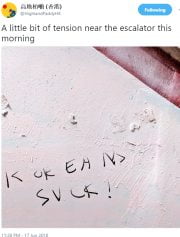 My handwriting is better than this. Really. I like to think I would take the trouble to put it in Hangul, and phrase it more delicately. Stop looking at me like that.
And on to the latest instalment of our series, Links Documenting the Increasingly Depressing and Never-Ending Communist-Imposed Mainlandizing and Decline of Hong Kong, or Look on the Bright Side, At Least We're Not in Xinjiang…
An academic mega-epic by Johannes Chan – A storm of unprecedented ferocity: The shrinking space of the right to political participation, peaceful demonstration, and judicial independence in Hong Kong, courtesy of the International Journal of Constitutional Law.
On a more-digestible level if you're pushed for time, Kong Tsung-gan's latest HK Free Press update and analysis following the Mongkok riot/'riot' trials. (This is the essential series for anyone trying to keep up with the increasingly frantic, just-getting-started, phasing-in of 'rule by law' in Hong Kong.)
Asia Sentinel joins in the coverage of the sentencing of Edward Leung, and, in keeping with its regional franchise, likens Hong Kong to the unfortunate Indonesian woman recently devoured by a python. The article includes a list of examples of Beijing's intervention and repression in Hong Kong. Most people familiar with the Chinese Communist Party's growing grip on the city will immediately see that the list is incomplete. This is not a reflection on the author, but a reminder of how widespread, repetitive and wearing the process has become. You are being numbed and exhausted into submission.