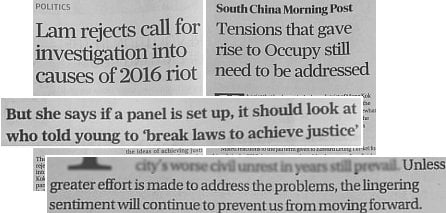 The Mongkok Riot was the most outrageous and frightening, civilization-threatening, decency-defying, wanton outbreak of violence in Hong Kong for half a century – but not important enough to warrant a commission of inquiry, oh no.
Even the South China Morning Post editorial can't bring itself to follow this contorted official line.
An investigation of the underlying causes of social discontent might have been conceivable in the first 10-15 years of Chinese sovereignty over Hong Kong, when the city's administration appeared to make its own decisions on most internal affairs. But Beijing has since redefined and downgraded 'One Country, Two Systems' and 'high degree of autonomy'. It is now clear that real power lies in the Liaison Office.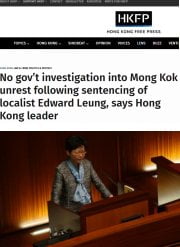 There can be no investigation into the deeper reasons for unrest – because the Chinese Communist Party is infallible. It is perfect. It never makes mistakes. Its appointed leadership in Hong Kong must therefore be totally competent, and certainly could never screw up things like housing, inequality, rights protection or governance in general.
The only permissible reason for things going wrong under such a flawless system would be 'hostile forces' – typically, of course, foreign in origin. Chief Executive Carrie Lam alludes to this by saying that any inquiry should be into the brainwashers of youth who peddle evil notions like 'civil disobedience'.
At this early stage of 'integration' with the motherland, a Mainland-style paranoid and xenophobic campaign against malicious alien thoughts would meet with mockery and/or upset the precious international business community. (Carrie's predecessor CY Leung would have gone for it with relish, but he was ahead of the curve.)
Anyway, academic Benny Tai and companions will soon be tried on 'incitement to incite' public nuisance charges. This desperate prosecution, obviously in response to Liaison Office demands that Hong Kong crush threats to national/CCP security, could serve as the inquisition Carrie is hinting at. If our pressured and pliable courts martyr Benny (along with themselves), the truth will be confirmed: malevolent Western ideas duped local kids into rebellion and undermined faultless Communist Party rule.