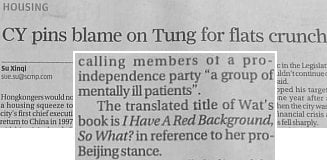 Former Chief Executive CY Leung blames insufficiently dictatorial government for Hong Kong's housing crisis – specifically, an insufficiently dictatorial government in which he played a role.
Not for the first time, CY's desperate eagerness to support the Chinese Communist Party's totalitarian philosophy leads him to twist logic. In this case, he is plugging an avowed patriot's book by implying that if we all shared the author's fondness for Leninist despotism, we could have averted Hong Kong's greatest current social and economic ill.
His thinking is as follows. If Hong Kong's first CE, Tung Chee-hwa, had stuck to the (CY-driven) policy of maintaining an adequate supply of affordable homes despite the post-1998 property crash, we would not be in today's mess. But instead, big softy Tung listened to the common people and especially the pro-democrats who complained about property values falling – so the Crop-Haired One cut off the supply of affordable housing to push prices back up, leading to today's bubble.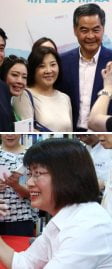 This is not how most of us remember it. It's true that people who bought apartments at the wrong time in the mid-1990s ended up in negative equity, and they whined bitterly and in a few cases committed suicide. But the idea that CCP-appointed Tung (hand-wringing disposition notwithstanding) cared primarily about the plight of over-extended lower-middle-class citizens is absurd.
The greatest howls of outrage – albeit behind closed doors – came from the property developers. At one point, Beijing summoned the cartel-running tycoons to a no-nonsense 'support Tung' reprimand. But they got their way. The real-estate lobby encouraged home-owners' complaints (the Liberal Party organized an 'astroturf' protest against declining prices). Tung helpfully pulled the Tamar site off the land sales list, which just so happened to prop-up rents at nearby new office blocks CITIC Tower and Cheung Kong Center. Alpha-tycoon Li Ka-shing's son got cheap land on which to build luxury apartments under the guise of a 'Cyberport'. Barely completed subsidized housing was abandoned and sold on to developers. Etc, etc.
Tung's successor Donald Tsang continued to constrict land sales, and gave developers incentives to build luxury apartments just as Mainland capital-flight/money-laundering started to hit the market. The next CE was none other than CY Leung, whose big housing policy was new stamp duties that – surprise! – happened to push demand away from the secondary market to the developers. That brings us to current CE Carrie Lam, whose core effort is an attention-diverting rigged task-force on long-term land supply, which you will be amazed to hear is irrelevant to the immediate affordability problem.
For good measure, let's go back to the colonial 1980s and 90s. The Chinese government, after signing the handover agreement, insisted that the British administration tightly restrict land sales – a policy that fed into the late-90s bubble and crash.
None of this was or is populist pandering or the doing of evil opposition lawmakers. What's going on?
For many years straddling the handover, it seemed Beijing was manipulating Hong Kong land and housing supply to benefit the property tycoons – a predictable United Front tactic to co-opt local grandees. More recently, it has looked and felt more like a deliberate strategy to enable Mainland elites to move their money and families in while squeezing the local younger middle class out. The bottom line is that this mechanism turns Hong Kong into a cash cow that sucks wealth out of the population via land-related revenues into the government's phenomenal HK$1 trillion-plus reserves, which can be transferred to the central government one day.
Maybe a fuller answer is in I Have A Red Background, So What? by Chris Wat Wing-yin.