A letter from HSBC. The first sentence starts with a dangling participle, drops the word 'enhancements' – a sure sign of impending crap – and makes the guru-cult-like promise of 'deeper inspiration'. Then it gets bad…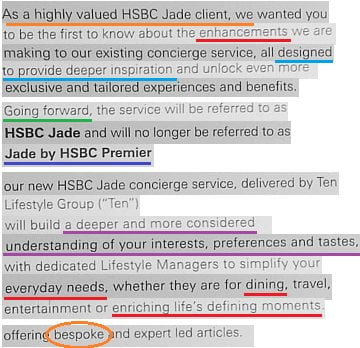 'Going forward', the letter advises that they are ditching the bizarre 'Jade by HSBC Premier' name for the product/service/thing in question. (Heard of this before… Yes – I hate to say I told you so, but I did. All you had to do was listen.)
The tone shifts from inane to creepy, as the letter informs me that HSBC will 'build a deeper and more considered understanding' of my personal tastes, which frankly are none of their damn business.
It then seems to offer some sort of help with regard to 'dining' and 'enriching life's defining moments'. Could this mean they send someone over to do the washing up? If so, I could get excited. That's what this bank client would call 'adding value', assuming they can't (say) raise interest rates on time deposits.
(Wearing my HSBC shareholder hat, I must say fatter margins and miserable benefits for customers suit me fine. Not sure I should be complaining. But does the marketing have to be such drivel?)
Further down, the letter mentions the word 'bespoke', but I will spare everyone because it's a Friday.
I declare the weekend open with a couple of eye-raising charts, which are of course connected. This one shows Hong Kong housing prices versus other cities since 2005 (see also this one, and full FT article on our aging tycoons and their scions). And this seriously freaky one shows private credit growth in China versus the rest of the world – spot when the Communist Party ran out of ideas.