…on annual inspection visit, to confirm that the city is maintaining its standards of semi-medieval architecture, African chicken and other delights…
Main conclusion: if Hong Kong is to meet its target of an extra 100 million tourists per year, it could learn two things from Former-Portuguese-Enclave-ville.
First, if you insist on hosting yet another Sun Yat Sen Museum (does anyone so unaccomplished in history have so many memorials?) make it a wacky one…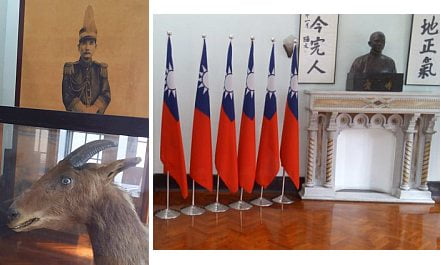 No stuffed goats? Forget it.
Second, you can't attract the really classy hordes we know you have in mind if your idea of a cruise hub doesn't involve on-board Thai transvestite dancers and Filipino dwarf boxers…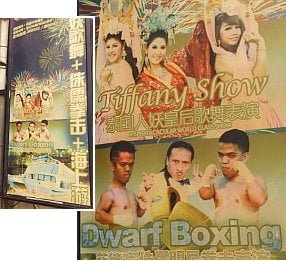 …all in the best possible taste.
Incidentally: why do TurboJet booths in both HK and Macau ferry terminals now only sell tickets for departures 2+ hours in advance, while tour-company/scalpers openly offer 'next-sailing' tickets yards away at a 10-20% mark-up (and this is not a peak time and the boats are filling up with stand-by passengers)?