Ever since the Hong Kong Botanical Gardens announced the arrival of the mongoose-like critters, I have made a point of dropping by when passing to see the meerkats. For well over a year, they have never shown themselves, and I started to suspect they were not there at all. Maybe our plucky, independent-spirited, freedom-loving furry friends had caught the scent of Hong Kong's fate on the air and tunneled their way back to Namibia. I have now had sight of the beasts…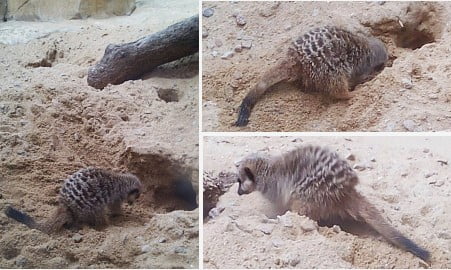 Or one, at least. Bit like a squirrel (roughly).
While I recover from the amazement, some ever-popular links.
Some HKFP local reporting: the Nam Sang Wai burning wetlands mystery, and the most-local election in Hong Kong – and yes, you sort of get the impression that the pro-Beijing participants are lying, cheating, bribe-taking scumbags even at sub-neighbourhood level.
Donald Trump's psychopathic approach to Beijing's protectionist and predatory trade and investment policy is provoking alarm and concern among many conventional economist and business types, especially outside Asia. As sophisticates who get ancient Oriental wisdom, they agree that China must be treated with deference and respect. But many grittier China-watchers who live in close proximity to the Panda have no such delusions. A few of these hardened cynics possibly find themselves wondering whether Trump (and Bolton en route to Taiwan, et al), while disagreeable and crazy on most issues, might deliver some long-overdue non-deference and bluntness and actually put some of Beijing's overweening hubris back in its bottle.
Chances are, the markets and most of us obviously assume, Xi Jinping will easily outsmart, con or flatter Trump into backing off while giving him a pseudo-victory to Tweet about. But here's a good overview of the dynamics of the 'trade war' conflict…
 "The Chinese Communist Party has no interest in liberalizing its goods, services, and investment markets."
Meanwhile, Carl Minzner, author of End of an Era, on what Xi means for social freedoms, notably Christians and feminists…
"Wait until China's social credit system adopts pro-natalist policies…"
And here's an interview with him on his book…
"All of those late 20th century political reforms… collective rule, partial depoliticization of the bureaucracy, avoidance of a cult of personality… once you see that those rules are coming undone, the key question is: which are the next norms to go? How far could the system slide backwards? How much of the instability that characterized the Maoist era could return?"
And if that's not scary enough…
"…there are going to be a lot more international conferences featuring papers and panels on Xi Jinping Thought…"
Cue sound of meerkats digging more furiously.