Hong Kong is about to undergo its annual overload of cultural commerce, as Art Basel – the world's largest arts fair – opens its 2018 Hong Kong 'edition'.
The MOMA-cum-Walmart show is more exhausting than stimulating. Being popular among the general public and heavily corporate, it has become officially non-trendy. Genuinely cool and cutting edge Beautiful People have [sniff] lost interest and don't go. (The alt/fringe/spillover Art Central on the waterfront still perhaps has some edgy credibility.)
Apparently, Chief Executive Carrie Lam will speak at the official Art Basel HK opening today. I have a bet that she will mention 'Belt and Road' in her remarks. She will definitely stress Hong Kong as an 'arts hub'. To officials, culture is classified along with tech, inno-, bio- and green – incomprehensible but vital to the city's need to 'find new paths for long-term development', as a tycoon-establishment think-tank puts it.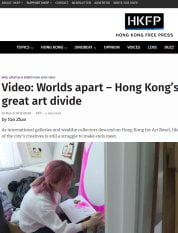 Arts and culture must therefore be about real estate. The bloated, bureaucratic West Kowloon Arty Hub-Zone eventually promises a probably-decent modern art museum in M+, along with assorted white-elephant stuff like the Xiqu Mega-Horror, a multi-billion basement, the Sudden Patriotic Palace Museum out of Nowhere and – coming soon, you can be sure – luxury apartments.
Actual people who do actual art and culture complain about high rents and a lack of government support (see a hilarious attempt to access a public crafts centre, and other moans here). The taxpayer does subsidize avant-garde dance, film-making and other activities quite handsomely – and the predictable and intended result is that they become safe and non-subversive. Officials want concrete-pouring, development, tourism and anything that pushes rents up. Other than socialist realism with you-know-what characteristics, creative expression in Hong Kong is destined to be more than ever underground.
I declare what is technically a four-day weekend starting Thursday – but for the luckier of us a longer one commencing forthwith – open, with some highly recommended art-or-at-least-illustration entitled Babel Hong Kong by one Emily Allchurch (check out the original first to refresh your memory).