Time for the UK to issue its twice-yearly report on Hong Kong's declining autonomy. The government instantly hits back with a press statement (less whiney-defensive and more dismissive-shrug than usual – maybe they are learning). Normally, that would be that for another six months.

But this time, Reuters is publishing a story in which Hong Kong judges voice fears about Beijing's growing influence over the courts. (No mention of it in the South China Morning Post, but the Standard carries it in a features column branded 'Cultural Spectrum'.)
A turning point was the November 2016 'Basic Law interpretation', by which Beijing suddenly changed the law with retroactive effect to pre-empt the courts in a plainly political case (barring lawmakers for incorrect oath-taking). The de-facto edict effectively turned the independent judiciary into a rubber stamp in that case.
The negative judicial vibes Reuters quote are (inevitably) cloaked in anonymity and predictably restrained. But the story will hit a raw nerve among Hong Kong bureaucrat-officials who loudly maintain that rule of law is safe, sacrosanct and key to the city's role as a business hub. (It might be welcomed, discreetly, among true faithful Communist loyalists who detest the alien legal system. Some may be ambivalent, like former Justice Secretary Elsie Leung, who sounds faintly uncomfortable answering Reuters' questions.)
The story mentions hedge funds specifying in contracts the use of Singapore rather than Hong Kong for dispute resolution. Singapore officials of course encourage misgivings about Hong Kong's legal system. OK – a tad hypocritical. But Beijing itself is bolstering the argument that Hong Kong institutions might favour Chinese state-linked parties. (Singapore is also sniping at Hong Kong's securities regulation on similar grounds. Who can blame them for identifying an opportunity?)
There is more to come. Macau (totally different legal system notwithstanding) may lead the way in barring foreign judges from some cases. Beijing's obsessive allergy-phobia about Hong Kong 'pro-independence' sentiment shows no sign of succumbing to reason, and will no doubt lead to National Security or other measures that restrict the courts' ability to protect people from state power. It's the trend: Xi Jinping is on a mission to restore what he sees as genuine one-party rule, and Hong Kong will not be spared.
No-one can do anything about this. The Hong Kong government will wring its hands and seek comfort in the fantasy that it's essentially a PR challenge.
I declare the weekend open with… proof truck drivers ignore signs/a disastrous attempt to paint the town red/David Hockney's lesser-known Hong Kong classic, A Mid-Level Splash…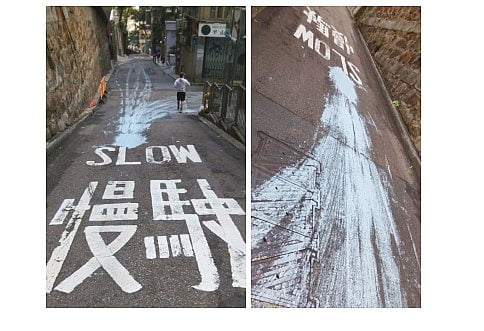 And a last-minute reminder for those who missed it: HK Free Press's funding drive.