Anyone can put the cart in front of the horse. It takes far more flair and ingenuity to take the wheels off the cart and roll them away in different directions, then turn the horse upside down and place it at an angle to the side of the now-immobile carriage.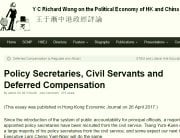 Economist Richard Wong identifies a very real problem in Hong Kong: the dismal quality of policy secretaries – the minister/cabinet-level officials who run major portfolios like finance, education, transport, etc. Perhaps out of deference to official establishment reasoning, the HKU professor blames this on the supposed 'shortage of political talent' bemoaned by Chief Executives past and present.
Specifically, he blames the electoral system for channeling proponents of vested interests into the legislature, and the outdated use of seats on advisory bodies as rewards for shoe-shiners. Both these features are designed to reduce popular representation and bolster Beijing loyalists' presence. He also blames the 'heat in the kitchen' that is an inevitable result – not cause – of the crap governance.
He shies away from the real cause of Hong Kong's talent-starved governance.
There are very smart people out there among elected politicians, activists and professionals (eg…). They could significantly boost Hong Kong's policymaking capacity, if they were allowed to take part – but they're not.
They are excluded because they are not in the pro-Beijing/establishment milieu. They are not necessarily barred because they are outspoken anti-Beijing critics, but because they question things and have their own ideas. You can't be in the pro-Beijing camp if you question things and have your own ideas. But you can't be in government unless you are in the pro-Beijing camp – or you are so ideologically inert (and obviously ideas-free) that it doesn't matter. Since actual pro-Beijing people (think DAB lawmakers) are so underwhelming in basic work/life/people skills, we are left with only one option: rule by civil servants who are competent administrators but utterly devoid of ideas.
Richard Wong's solution: reintroduce pensions for civil servants, so more of them will stay on and become ministers.
Don't ask.
On a more inspiring note: today's 'Best Use of a Corny Elton John Song to Help Everyone Keep Up' Award goes to this splendid work.