Maybe there is a method to the Liaison Office's obsessive micro-tweaking of opposition candidates' access to the Hong Kong Legislative Council by-election ballot. Or they are making it up as they go along. Either way, Edward Yiu passes the ideological screening test that Agnes Chow for some reason failed.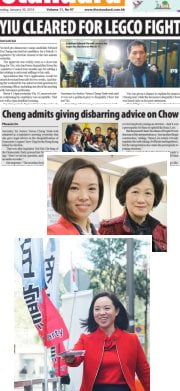 Awkwardly 'moderate' Pro-Beijing lawyer Ronny Tong explains that there are technical differences between the two cases. We might also point out that Beijing has a particular phobia about the Demosisto group, whose youthful and photogenic Agnes, Joshua Wong and Nathan Law are – by Hong Kong politician standards – internationally-known trendy glam heroes.
Most likely, Beijing's officials balked at dumping too much of their stomach-churning wretchedness on Hong Kong at one time. It would have been easier if they hadn't already debased the local government's limited remaining credibility by making Teresa Cheng Justice Secretary. As it is, the newly appointed scandal-tainted legal chief struggles to answer lawmakers' questions on either her own or Agnes Chow's plights. Perhaps, in an uncharacteristic fit of lucidity, the apparatchiks realized that destroying their puppet administration's ability to command any respect undermines their mission of bringing Hong Kong under control.
Even loyalists are uncomfortable. Pro-Beijing lawmakers and others dislike having to endorse an illegal-structure-laden, stamp-duty-minimizing, PR disaster of a new Justice Secretary. The Standard, which is supposed to shoe-shine the government, expresses bewilderment about the Agnes/Edward case in its editorial.
Here on Hong Kong Island, the Liaison Office has decided that one Judy Chan of Regina Ip's New People's Party will represent the pro-Beijing camp in the March by-election. (Middle-class image, none of the uncouth proletarian Leftist thing, as befits the constituency. Sports fetching, modern, clean-designed crimson and white banners.) She previously said that she would prefer Agnes not to be barred. Don't blame her. What are the chances that the Liaison Office's meddling provokes a bigger pro-dem turnout for Agnes's replacement, Au Nok-hin? (Bearing in mind that we'd never heard of Judy before, either.)