For a decade or two, Beijing officials and apologists have maintained that Hong Kong is an 'economic city not a political one'. While people still had faith in 'One Country Two Systems', the Basic Law and other apparent commitments, this phrase sounded merely inane. But the Communist Party is now open about its intentions. It wants to Mainlandize Hong Kong's government structure – create a fully unitary, centralized, top-down system without meaningful separation of powers or popular representation.
The predictable barring of Agnes Chow from the ballot is another step in that direction. (Edward Yiu will presumably follow, making the rigging of the game even more farcical. See David Webb on the absurdity of confusing 'upholding' versus 'agreeing with' a law. Also consider that the bureaucrat supposedly responsible for barring Agnes Chow was essentially claiming to be able to read her mind.)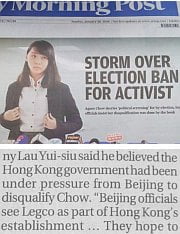 The pro-democrats hope that they can resist this gradual process through logical arguments or rule of law (or weekend protests). They are certain to be disappointed. Beijing's method is to chip away to see where the next 'Western-style' constitutional obstacle is – and then eliminate it.
The screening of candidates (and weakening of legislators' powers) is aimed at turning the Legislative Council into a pure rubber-stamp assembly; it also turns a supposedly impartial civil-service function (overseeing elections) into a political one. If you think the courts will come to the rescue, you are going to be wrong. Beijing has already established a precedent for pre-empting court cases (through 'interpreting' new retroactive law into existence in the previous disqualifications). And the NPC's imperial edict authorizing the rail terminus co-location arrangement establishes a precedent for overriding even the Basic Law (via endorsement of – you guessed it – the rubber stamp legislature).
So the legislative branch is being neutered, and the judicial branch sidelined where it might infringe the Party's monopoly of power, just as civil-service neutrality (notably in police and prosecutions) has been replaced by political direction as required.
By openly reducing separation of powers and popular representation to symbolic levels, Beijing is implementing its much-vaunted 'executive-led government' in Hong Kong.
But this will not increase the local administration's power. As we see from the barring of Agnes Chow, co-location, and the bulldozing of discredited Teresa Cheng as Justice Secretary, Chief Executive Carrie Lam and her muppet ministers are just following Beijing's orders. The visible executive branch is being reduced to a ceremonial entity along with the rest of the Hong Kong government. The real power will be that of the Leninist party-state, hidden behind closed doors.