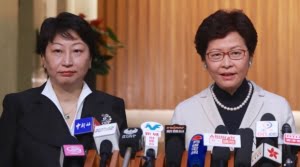 The new Justice Secretary Teresa Cheng 'Otto grotto' illegal structure quagmire mess mayhem disaster continues to unfold most entertainingly.
The government says it will allow Cheng to finish some outstanding arbitration cases from her private practice. Apparently this is a practical alternative to abandoning the work (and

makes us wonder how much warning she had of her appointment). But it raises questions about conflict of interest – not to say unmanageable workloads for the famously 'busy' lawyer.
The minor but not excessively fringe Labour Party report Cheng to the Police for not mentioning her home's illegal structures in mortgage documentation.
And media sleuths find that not only was Cheng a member of a buildings enforcement Appeals Panel, but she (co-) wrote the definitive, gripping, classic book on construction law in Hong Kong, featuring among other things a brusque dismissal of scumbags who claim ignorance of illegal structures in their homes (quite right too).
Chief Executive Carrie Lam asks for more tolerance for Cheng. Carrie is also overseeing vindictive law-stretching persecution of dissenting lawmakers, academics, teenagers and other opponents in her role as figurehead for creeping Communist Party authoritarianism – so she is pushing her luck here.
The Communist Party, having chosen Teresa Cheng for her ideological dependability, will not allow the Hong Kong authorities to ditch her. To them, obedience of the law is irrelevant as a qualification for high office, and the main problem here is an unruly press that is allowed to broadcast negative and subversive information. And spurning local public opinion is a matter of sovereignty. The only thing that might persuade them is if they realize how much this whole mess is a gift to the pro-democrats and other critics.
A sign of the times: BNO passports (British-issued non-citizens' travel documents of limited practical use) are now a status symbol among authentic 100% Hongkongers.
And a reminder of how far Beijing's brainwashing has to go on this side of the border: a Chinese Communist Party discussion on how and why to delete, fabricate or otherwise rewrite history (the juicy extracts are here). [Warning/update – allegedly fake news!]
I declare the weekend open with some ideal viewing for a cold-afternoon: 1950s Alfred Hitchcock light comedy The Trouble With Harry – not merely quite funny, but surprisingly tasteless.