…just in time for the Christmas-New Year Hibernation.
Among the highlights of this annual inspection tour was this rather fetching pair of statues, which relate a sad story. It seems that once upon a time, many many years ago, a
local woman fell for a Westerner. He was a Dutchman – but bear in mind that this tale probably predates the modern image we may have of Dutchmen being sensitive New Age guys. Furthermore, he was a sailor. He promised he would return, but, as you have probably guessed, the despicable rogue left the poor girl in the lurch. (In fairness, he might have been eaten by cannibals in New Guinea or something, but the official version clearly implies that the good-for-nothing foreign scumbag skipped town.) So she had a daughter.
The daughter grew into a lovely young lady, who in turn was swept off her feet by a man visiting from overseas (presumably also a sailor, not sure if he was also Dutch, also not sure if her mother had warned her about these people). This guy also then disappears, though at least – it seems – he did not leave the girl with child.
The statues portray the two looking out to sea, heartbroken, waiting for their respective lovers to turn up again. (I'm guessing neither of the cads did – the story would surely mention it.)
Other highlights were the many examples of extreme grottitecture (see recent Tweets). For decades, the Kuomintang dictatorship planned to retake Mainland China and did not prioritize urban aesthetics on their temporary island base. On top of that, Taiwan is pleasingly laid back about municipal planning and design, and free of Hong Kong's frantic re-re-re-development or the Mainland's obsessive glitzy vanity-driven infrastructural horrors. This particular region, around Tainan, is even more down-to-earth and unpretentious than the country as a whole. Builders also have some awkward plots of land to work with, as seen with this wedge-shaped house, Claustrophobe Mansions…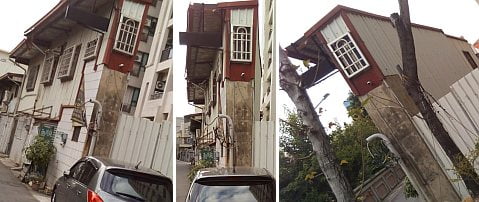 I declare the long weekend open with some holiday-reading links: China's inability to 'get' Taiwan's democracy (relevant also to Hong Kong); a lengthy legal look at Hong Kong's forthcoming National Anthem-adoration law; the huge amount of land the Hong Kong government conveniently forgets about when fretting about that 'shortage of land'; China's new iffy acquisition in Scandinavia; and, for your viewing pleasure, quirky satirical late-60s cult movie Putney Swope (review here).