…for my annual inspection tour of Taiwan. The first time I visited the place, schoolkids wore weird 'dictatorship' uniforms, changing money at a bank took 30 minutes' form-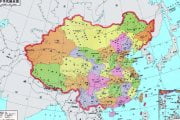 filling, I bought an official map of the country that included not only the Mainland but Mongolia, and the freakiest avant-garde counter-culture was neon-lit KTV joints. Now it's been through democratization, mint-coffee bubble-tea, aboriginal chic, out: betel-nut girls, in: gay marriage, and identity-affirmation viewed elsewhere as de-Sinification – and it is a trendy destination (and not-unthinkable bolt-hole) for Hongkongers.
Which leads us neatly to the Chinese leadership's approach to rebellious cities. In other Chinese 'soft power' news: the Mainlandization of Forbes, and Beijing's surreptitious establishment of a satellite ground station in Greenland.
And (on a totally different note) an eye-opening documentary on the 'luckiest' man in World War II – if you thought you had it tough in your early 20s…
I declare the weekend open, for me at least, until Thursday or so (just in time for the four-day Yuletide hibernation).