A letter (scroll down) in the South China Morning Post asks why the Communist Party can't just be nice?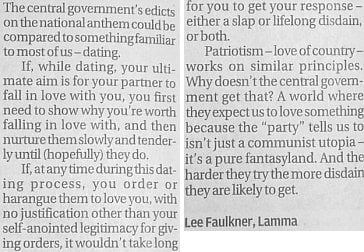 It's a good question. The Chinese government's attempts to rant and bludgeon Hong Kong into loving it are surely unworthy of the famous thousands-of-years-old civilization or a Party that claims to serve the people. The approach is, as the writer says, counterintuitive and counterproductive.
We could point out that the Leninist system is about gaining and holding absolute control through force. The underlying assumption is that the people don't want to be run by a Communist dictatorship. (Unlike enlightened and smart Red revolutionaries, the masses are too downtrodden/brainwashed/dumb to understand. Otherwise, we could just hold an election…) The utopian ends will justify the violent means.
A problem is that, however brilliantly it succeeded with peasants in semi-feudal 1920s Russia and 1940s China, it doesn't work on Hongkongers – on average far wealthier, better-educated and accustomed to a pluralistic society and rules-based order than the compatriots over the border.
And so the letter-writer's question remains unanswered.
I can only hazard a guess: It would be easier to be nice, but being obnoxious is more fun.
I declare the weekend open with triple-fun – an ultra-in-depth update on Alibaba's financials, this inspiring wonder of modern technology, and insightful words for politics and dialect fans from an Alabama hairdresser…