I declare the weekend open with a quick glimpse into the nebulous 'Greater Bay Area'. The South China Morning Post defines the visionary vagueness as "the central government's plan to link Hong Kong, Macau, and nine mainland cities in the Pearl River Delta into an integrated innovation and technology hub".
Maybe this was already common knowledge, and we missed it amid all the mind-numbing sloganizing, the ranting about 'opportunities', and the nagging fact that it's a delta not a bay. But maybe this is the first time someone has authoritatively distilled the idea into something of substance. (Or, possibly, it's the SCMP's own brave attempt at a pithy summary of the concept, thus really no more than a guess.)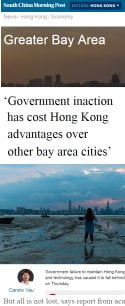 Assuming it's a real thing – what's going to happen? For example, will the Mainland cities (Zhuhai, Foshan, GZ, Dongguan, SZ, etc) be wrapped up into a new Municipality, like Chongqing was, with the same status as a Province? It would be nice to know.
According to the article, the Transport Ministry in Beijing is deciding which of the region's three main aviation centres (GZ, SZ and HK) will "play the role as hub airport". (My vote would be for SZ – it's the most central in terms of population distribution and transport links, plus it might help keep riffraff, MICE, etc out of HK.)
The SCMP story concerns a report by some experts, or at least academics. They fret that Hong Kong is losing its edge and the other cities are overtaking us in logistics, innovation and e-platforms or something. This brings us back to the major question of Hong Kong's future – will it continue as the place that is free to do what the Mainland cannot/will not do, or will it be 'integrated' and competing in a centrally-planned-sort-of-way with the others? You can have either one, but not both.
Still, it seems that we will be designated the marine insurance hub – so there's always that. And if that's not exciting enough, Belt and Road' is going to rebuild Syria.