Busy today ensuring a supply of vitamin C for the coming winter by making kimchi. The ingredients are Napa cabbage, salt, chili flakes, ginger, garlic, green onion and in this case rice-flour paste, regular onion, salt shrimp and fish sauce….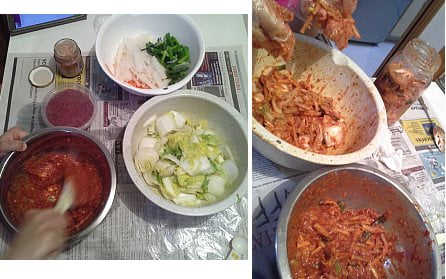 There's also a batch with daikon.
The process ends up with serious mushy mashing activity requiring plastic gloves – it looks like the goriest-ever quack psychic surgery in the Philippines. Hopefully, after a slow start contributes to a deeper and more subtle flavor, warmer weather in the next few days will give the fermentation a kick before the jars can be put in the fridge.
You might still have time to make this evening's Sauerkraut for Dummies demonstration in Cyberport. Sauerkraut is the way to start, because it makes itself. Use non-iodized salt, squeeze all the air out when you put the stuff in jars – and it can't fail.
Disturbingly (as the Cyberport gig suggests) home pickling is becoming so trendy in Hong Kong that even the expat housewife food faddist set are getting into it. Time to spread the word, perhaps, that it's all about breeding millions of bacteria.