I just took a photo of the harbour on the off-chance that the cheapo and unpredictable phone-camera would do something interesting with the light. It didn't – the scene came out precisely as leaden, gray and hazy as it looked in real life. Before deleting the picture, however, I spotted a new addition to the West Kowloon waterfront: a squat cylindrical structure, like a gasometer. Zooming in, I couldn't help noticing that it is vast…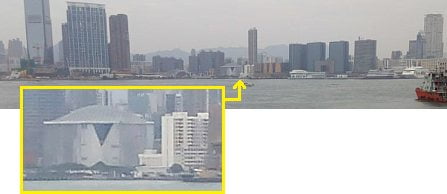 Judging from the white building to the right of it, which is closer, it must be at least 12 floors high – probably more like 15. It could be the top half of the world's biggest pedal-bin, or maybe the first-ever multi-storey aircraft hangar.
It is, of course, the Xiqu Centre.
We all knew there was going to be a Chinese Opera venue at the West Kowloon Cultural Hub Zone. We all assumed that, like other Hong Kong government-led arts initiatives, it would primarily be an expensive and elaborate construction project. One or two of the most perceptive among us may even have suspected that the bureaucrats would find a way to make the thing architecturally shit. But – who could have guessed it was going to be this absurdly massive?
My hunch is that the original plans were drawn up in centimetres, and the engineers and contractors doing the construction thought the measurements were in inches – so everything is 2.54 times bigger than intended.
This makes sense: it suggests the original idea was for a four- or five-storey building covering the space of maybe three or four tennis courts – which sounds perfect for th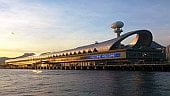 e purpose, especially if it also hosts some other worthy but minority-taste dramatic arts (say kabuki) and maybe a quasi-quaint tea house.
Could this also be the explanation for the outsized mega-Cruise Terminal at Kai Tak, the miles-long Worm-from-Dune that handles one ship a week?
And now back to the latest on Hong Kong's Shortage of Land…