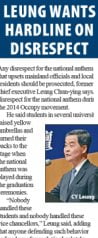 However much of a klutz Carrie Lam might be, she can never hope to surpass CY Leung as Hong Kong's creepiest Chief Executive. Rarely seen during daylight since leaving office last June, the former leader appeared yesterday at a forum pushing the theme of China-as-country-of-which-Hong-Kong-is-part (subtext: and-you-are-mere-worms).
One of his not-too subtle points as reported in the Standard was that any disrespect for the national anthem that upsets Mainland officials should be prosecuted. This is a neat solution to the 'what if you stand on one leg?' and other hypothetical scenarios causing law-drafters so much trouble, since everything upsets Mainland officials. He also warned students who raised yellow umbrellas or turned their backs during the anthem at graduation ceremonies that this could never count as exercise of free speech.
The Standard's account mentions CY's comments on the Anthem Freak-Out Frenzy alongside separate remarks by him along the lines that while killing is a crime deserving of capital punishment, killing in the name of the country is justifiable. We should not assume that he called for breakers of the forthcoming anthem law to be executed. Or maybe we should.
This whole subject of 'country' was at the core of CY's remarks (and the forum). He maintained that describing the Hong Kong-mainland relationship as 'Sino-Hong Kong' implies independence advocacy – as does 'Sino-Taiwan'. CY also mentioned the 'struggle' between China and other countries, presumably to rouse Hongkongers, whose lack of Chinese identity creates a void that affinity with foreigners or other loathsome threats to Communist-Han identity could fill.
This goes to the heart of Beijing's increasingly obvious neurosis about Hong Kong: that the city doesn't act right. The stolen child returned to the motherland has something alien about it, and can't identify with its rightful family. Patience hasn't worked, and the parent's frustration grows, and with it an insecurity. More shrieking and beatings are the only solution – at some point, the offspring will cease its mutant ways and submit to the correct understanding.
Property tycoon Ronnie Chan was also present at the forum, and blamed the British for not allowing a sense of 'country' before 1997. The post-97 kids that are most alienated from 'China' never experienced the era of colonial oppression – but that would have been the time Ronnie got his US citizenship.