Eeewww – pass the sick-bag…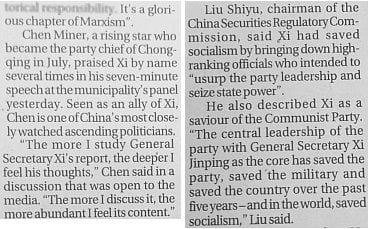 There is China coverage that we assume reflects what they want us to think. An example today is increasingly state-directed Alibaba's owner Jack Ma's South China Morning Post passing on blood-curdling revelations about Bo Xilai and Zhou Yongkang having plotted a coup. And at the other end of the spectrum there is serious analysis from veteran and respected observers (such as…).
But whether it is designed to mislead or attempting to be objective, it is all focused on a black box, given the slightly more accessible name 'China's elite politics'. Only a small number of people really know what is going on within the box (even that number – it might be half a dozen, a couple of dozen, or more – is purely conjecture).
Some quick weekend reading from ChinaFile reminds us how little we know. The current Communist Party Congress declares Xi Jinping Chairman for Eternity and enshrines Xi Jinping Thought as the nation's sole guiding philosophy – but what does it mean? That Xi has personally assumed total control? Or that a certain number of people have decided that it should look like he has? For all we know, he is just a puppet.
The article offers the Chinese leadership's famous factions as a good example. Outside commentators knowingly talk about (say) Communist Youth League alumni as a specific grouping with clannish ties that differentiate members from other, rival cliques. To outsiders accustomed to inter- or intra-party divisions in other countries, it sounds familiar, thus tempting. But there is limited hard evidence that the CCP is split, certainly not along the lines we often hear about (how ever much common sense tells us power struggles must take place).
This tendency to elaborate barely existent details extends to personality. The ChinaFile piece mentions the belief five years ago that Xi would push market-based reforms. A year or two later, the accepted wisdom was that he was clamping down to prepare the ground for these market-based reforms. Now we know better (we think). This is not new: remember Yuri Andropov, with the (by Brezhnev-era standards) glamorous wife and reputed fondness for jazz, who was to re-invent Soviet Communism?
This is basically just Donald Rumsfeld's known unknowns and unknown unknowns applied to something very current. And we need the reminder.
The article mentions a small number of things that are visible – like published speeches and personnel moves – from which we might draw conclusions about what is happening in the black box. I would add the outflow of elites' funds and family members to the West, notably the US. It's happening; we can only guess why.
I declare the weekend open with a new sign of Hong Kong's space shortage – a subdivided vending machine…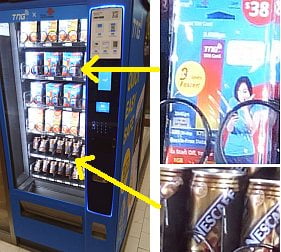 … for all your SIM card and canned coffee needs (maybe for when you phone someone who puts you to sleep).