When London's Buckingham Palace was bombed during World War II, Britain's then-Queen supposedly said she was glad because she could 'look the [heavily damaged port area] East End in the face'. Something sort-of/roughly/maybe-not-remotely similar has happened in Hong Kong.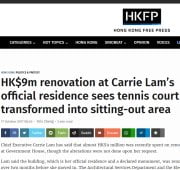 Our own regal residence, Government House, has been visited by our own approximate version of the Luftwaffe-as-contributor-to-urban-aesthetics: the Architectural Services Department. During a recent assault on the Chief Executive's official mansion, the wreakers of destruction took a perfectly pleasant tennis court and left it a barren wasteland – or as their perverted ideology terms it, a 'sitting out area'.
The phrase is actually described as 'Hong Kong English'. It means a patch of inner-city space occupying too little area to benefit property developers, covered with concrete, pot plants and benches to make a nasty public sub-sub-sub-park. And the Architectural Services Dept have not held back in this case, installing typically repulsive vegetation, even more-un-sittable-than-usual seating, and – for extra vileness – embellishing the original shiny vomit-green playing surface of the tennis court…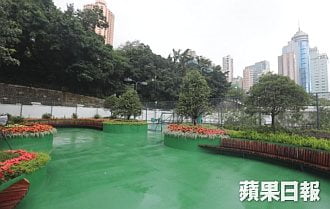 …imparting an unmistakable, indeed uncanny, impression of grass.
CE Carrie Lam understandably disowns any responsibility for this intrusion into what is not just her front yard but a historic monument. Still, as the workmen pin up the 'Beware of Rat Poison' sign and the local street-sleeper stuffs his plastic bags behind a plastic-wood fence, she can now hold her head up and let other citizens see that she too has to live alongside the Pearl of the Orient's uniquely mindless municipal charm.