Expect a hurt, whiny, defensive, protesting-too-much press release later today as the Hong Kong government goes into a huff about international lawyers condemning Hong Kong's declining rule of law, as reported here and here.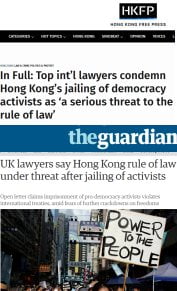 Local officials are already embarrassed by last week's Benedict Rogers incident. Unlike most of us, Beijing's ever-thorough security agencies were familiar enough with the mild-mannered British human-rights activist to deem him a potential trouble-maker. They ordered the Hong Kong authorities to turn him away, and sooner than you can say 'self-fulfilling prophecy', a big fuss results. The guy promises to be a much bigger pain from now on.
For decades, Hong Kong's mainstream pro-democracy figures tried to encourage overseas sympathizers to pressure China into keeping its apparent promises to the city. But the pro-democrats' obsession with political structure failed to inspire foreign (not to say local) audiences.
Now things are different. The Chinese Communist Party has made it clear that Hong Kong people will not – cannot – be allowed to choose their own government. Furthermore, Beijing is abandoning the whole pretense that 'One Country, Two Systems' means Hong Kong will be insulated from the Mainland's Leninist control system.
Instead of snore-inducing functional constituencies, we now have political prisoners – a far sexier subject. Barring a massacre, Hong Kong is not going to be a big international issue. But the potential for greater media and other overseas attention is higher.
Beijing's officials aren't concerned with external appearances or even public opinion within their own restive fringe territories. Their only focus is protecting the Communist Party's monopoly of power, regardless of how ultimately self-defeating the methods.
For example, the alienation of Taiwan's young looks irreversible – Beijing has lost the island, if it cares to notice. In Hong Kong the Leninist grip is tighter, and the question is how frantically should the party-state tighten it?
The CCP and its United Front strategists face a dilemma. Can they wait 20 years for Mainland immigration and schoolkids' indoctrination to displace native Hong Kong's hostility and incorrect thinking? Or must they eradicate press freedom and rule of law much sooner, before the city's CIA-backed pro-independence forces rise up and sweep North across the border? Both entail risks.
This week's must-read is a comprehensive summary of what you already know and feel but haven't totally joined up because it's so sprawling and distasteful – Mainlandization: How the Communist Party works to control and assimilate Hong Kong. Hopefully, the Benedict Rogers out there will all be seeing this.