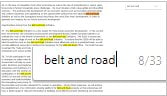 And the numbers are in… Hong Kong Chief Executive Carrie Lam's full Policy Address mentioned 'Belt and Road' 33 times, and 'Bay Area' 29 times. No wonder the lady read out an expurgated version to the Legislative Council. She also paid box-ticking homage to Beijing by making the obvious correct noises about dreadful pro-independence rabble, the need to cram patriotism into school kids and other forms of Motherland-adoration. As Disraeli said, lay it on with a trowel.
The rest of the content was mostly standard Policy Address blather, but obviously in a softer and more caring style than her baleful and emotionless predecessor CY Leung would have managed.
So you've got your usual pointless welfarish handouts, like a small de-facto cut in public transport fares. You've got the chucking of taxpayers' money at the mystical tech-R&D-innovation fetish. (There's also plenty of hot, steamy 'hub' action – she uses the word 21 times, and announces the exciting discovery of a new one called the Qianhai HK-SZ Design Innovation Hub.) There's some bureaucratic re-structuring and committee-founding, which Carrie really gets off on. Various municipal measures, with a pedestrianized street here (maybe) and a community garden there (probably). And a big headline for the business press in the form of a cut in profits taxes.

If (which is unlikely) anyone really thought Carrie was serious about housing, they now know better. She is scrabbling around for some short-term fixes to get a few slum-dwellers into charity-rented apartments, converted non-residential buildings and (not that we're desperate) shipping containers. The supposedly Big Ideas are limited in scope and/or scale and essentially involve re-categorizing existing resources and incentivizing/luring/conning renters into ownership.
Needless to say, she does not even mention the demand side of the equation – the influx of Mainland migrants and money-launderers underpinning rising rents and developers' margins. To ignore that is to keep the housing problem permanent by design. With that aim in mind, like its predecessors, the administration will also spare no effort to ensure that the all-important 'shortage of land' continues.
Other slightly-noteworthy observations from yesterday's excitement…
Interestingly, Carrie equates political reform with Article 23 national security laws in terms of feasibility. (That's a 'no', obviously.)
And she did a reasonable job in terms of presentation, though coming after the malevolent and gruesome CY, it's not saying much. The 'Hong Kong people are still brilliant' line was a nice try, at least. She also seems less petrified than in the months before her appointment – almost as if there isn't someone sticking a gun in her back now.
Still, the basic message is plus ca change.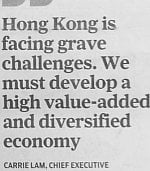 You have a choice: you can either prioritize pushing prices and rents up to channel wealth into the pockets of a bunch of 88-year-old tycoons, or you can have a vibrant, diverse, innovative economy with opportunities for the many. You can have one; you can have the other. You cannot have both.
I say you have a choice. Of course, Carrie Lam – appointed by the Chinese Communist Party – does not.

Amid the Policy Address hoo-ha, a party pooper strikes in the form of a UK politician called Benedict Rogers turned away by Hong Kong Immigration. This might have something to do with the extra-cautious hyper-paranoid freak-out precautions ahead of the 19th Party Congress in Beijing. Or it could just be the post-Umbrella Movement rectification norm. Either way, it would happen more often if more overseas critics cared enough about Hong Kong to try to visit.