Is Avery Ng toast? The League of Social Democrats activist is being tried for common assault after throwing a fish sandwich in the direction of then-Chief Executive CY Leung last year. CY, known for his cunning and devious ways, nimbly evaded the item. A dutiful if perhaps less-agile policeman courageously managed to intercept it – an act of self-sacrifice that resulted in nasty stains on his shirt.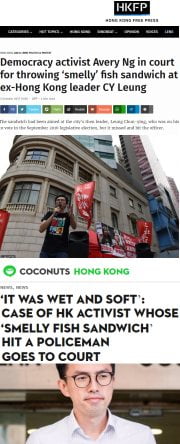 (The gastronomes among us may wonder what sort of fish sandwich. Assuming that Hong Kong's foremost Trotskyist radicals would find sardines too exotic and consider salmon too bourgeois, it was presumably tuna, on plain proletarian white bread – probably from 7-Eleven.)
Ng had mentioned at the time throwing an Indian chicken roll, and a fellow LSD member has previously been charged with throwing an egg at then-Financial Secretary John Tsang. This does not reflect a thing about food as such. But the group has a tradition of creative direct action – as displayed by 'Long Hair' Leung Kwok-hung's banana-wielding and other protests over the years in the Legislative Council chamber.
The trial of Avery Ng is one of a lengthy series of politically motivated legal actions against higher-profile pro-democracy activists. Ng himself is involved in several others. Cases range from arguably serious-sounding to frivolous and result from the Liaison Office's post-Umbrella Movement purge of Hong Kong's opposition. It is taking ages; maybe the Chinese Communist Party's locally based henchmen didn't realize how long legal proceedings would take, or maybe they don't care.
One victim of all this is new leader Carrie Lam's expressed wish to unite and heal Hong Kong's divisions. Another is the government's prosecutions function, as it laboriously chases dissidents for breaches of the law that in decades past would have been considered too silly to bother with. Each case also imperils the judiciary's reputation for independence. (This perhaps answers the question of whether the Liaison Office ogres care about how this looks – the United Front's obsession with crushing supposed threats to national security overrides anything else. Chances are, the Mainland officials are happy about using this process to intimidate not only activists but judges.)
The longer the process drags on, the more vindictive but also ridiculous it seems. Wolf vs Sandwich-Psychopath is perhaps particularly laughable because it highlights the former Chief Executive's thin-skinned and humorless nature. It also symbolizes – and betrays – the insecurity and vulnerability of the authorities. Whatever the verdict, the sovereign power and its local puppet regime look desperate, wetting themselves over a sandwich.