Every Western journalist must mention two clichés about Shenzhen: that it used to be 'a fishing village' and that it is now the hyper-modern, space-age, high-tech, Silicon Blah-Blah, innovation hub of China that's about to leave Hong Kong behind.
In reality, it has certainly improved from the days when the police used to handcuff child pickpockets to the railings outside the border crossing at Lo Wu. But it is still rich and glitzy only by Mainland standards. The average wage is probably at best half that of Hong Kong, and taxes are higher than here. Also, they don't have a public housing system giving 40% of the population nearly-free apartments.
So when their housing prices hit (say) half the levels of Hong Kong's (private sector) residential property market, you can infer extreme affordability ratios. The South China Morning Post does a feature on young Shenzhen-ers taking on frightening levels of debt – via family and no-questions lenders – to buy an apartment. Then maybe another one.
The mentality is that they have to buy now, because the prices will just continue to go up and up and up. It must seem logical to them, because they have never in their (10-year)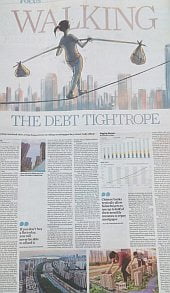 adult lives experienced falling housing prices or any serious economic downturn. Indeed, there is probably little or no collective memory among most Chinese of a 'property crash'. Housing used to be all public-sector. Then it was privatized and basically given away; reform and urbanization led to a huge uplift in values, and local governments adopted Hong Kong-style land-sales-for-revenue models and so had incentives to artificially manipulate prices up. More recently, Beijing started flooding the country with easy credit to keep GDP growth up at all costs.
Trying to look at a bright side… These are very long-term loans, and gradual productivity growth and wage inflation should shrink the repayments down in time. And, thanks to the one-child policy, each of these kids has two parents and four grandparents to leech off – so maybe we needn't feel too bad about these grannies in remote provinces sacrificing their pensions so the precious offspring can get on the property ladder.
But, realistically, this looks like it could get ugly.