While Hong Kong's student radicals are taking a break before moving on to the next scurrilous Outrage-the-Communists gimmick, the ponderous, officially contrived Great Campus Independence-Poster Mouth-Froth enters its next stage. Behold the Wow-So-Nuanced-'Discussion-Not-Propaganda'-Angle. According to this finely crafted logic-mangling, you can debate independence, but not advocate it – because that 'goes against' the Basic Law, blah, blah.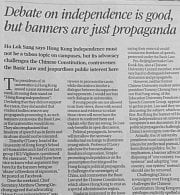 Beijing's shoe-shiners and puppets feel they are getting closer to the real issue by becoming obsessed with 'independence' as a concept and subject rather than as an alarming slogan on banners. Government officials, meanwhile, imagine they are being bold pondering the opening-up of Civic Square, a small specific concrete area where protests have occurred and could occur again if the fences are removed. In both cases, pro-Beijing forces think that the more strenuously they fixate on minor, irrelevant symbols, they less they need to worry about big bad reality. Focus on the symptoms, and the causes will go away.
Let's seek truth from facts: Hong Kong people are unhappy because of bad governance (favoritism, cronyism, misallocation of resources, a semi-feudal domestic economy, arrogant mediocrities masquerading as leaders, etc). They want better, accountable government. The Chinese one-party regime expressly forbids them from having it. Hong Kong reacts through protests, which result in a heightened Communist Party clampdown in the city, bringing us to this current cycle of tit-for-tat action and retaliation.
Beijing's supporters can't or won't go there. So let's refocus our efforts on 'discussing without promoting' independence, and all will be fine.
I declare the weekend open with one of SCMP cartoonist Harry's outstanding (presumably insufficiently politically correct) recent rejects…