Hong Kong's last British governor Chris Patten hits town. (His modern-day counterpart Chief Executive Carrie Lam dons an unspeakable blue jacket and visits the UK to hobnob with even earlier colonial relics – including an eerily preserved Lydia Dunn.)
For each minute of wit and each minute of wisdom, Patten usually comes up with several more minutes of self-serving platitudes about pre-handover decision-making – and some apparent naivety about the nature of China's Leninist regime. His HKFP interview is no exception.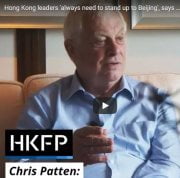 He misses the point when he insists that calls for Hong Kong independence are unrealistic. The 'pro-independence movement' was largely fabricated by Chief Executive CY Leung, presumably because the Liaison Office wanted a post-Occupy pretext for a heightened clampdown on opposition forces. Mischievous radicals quickly embraced the meme as a sure-fire way to anger and alarm Beijing. It's hard to say who's playing into whose hands. As China heightens repression in Hong Kong, 'independence' could take on more significance as a rallying cry among an angrier resistance. But as of now, no-one seriously foresees a city-state republic here, short of a collapse of the Communist Party.
Patten also pleads with the Chinese/Hong Kong leaders to debate and discuss with the young rather than alienate them through oppression. This is like advising Chinese officials to stop shaving beards off Muslim men in Xinjiang in order to improve relations with Uighurs – or to relax controls on the media, Internet and courts to nurture a more accountable government and innovative economy. Paranoid dictatorships don't do obvious common sense.
The former governor is probably being diplomatic and prudent. Even the gentle suggestion that his successor should speak truth to Beijing will attract accusations of unacceptable interference in China's internal affairs. And few other qualified overseas figures even take an interest. Meanwhile, over in London, perhaps the conversation is about how much a nice retirement place in Oxfordshire is likely to cost in 2022…