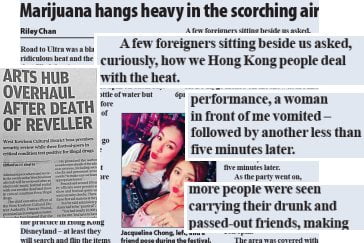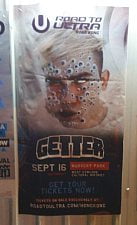 The poster advertising 'Road to Ultra' didn't work on me, so I wasn't at the West Kowloon music festival last weekend. As well as the unappealing advertising, it was one of those peculiar events where you get DJs instead of actual bands. The hype-prone Standard regaled readers with descriptions of drunkenness, exotic foreigners and 'marijuana in the air' – but I doubt it was that good.
Although sad, it is not really shocking that, amid the heat and revelry, one person died and several were hospitalized. But what better excuse for some major mouth-frothing about the West Kowloon Cultural District Authority, which controls the site? (Having also apparently dropped some bad Ecstasy, the government chooses this moment to appoint the hapless Henry Tang as the new figurehead for the West Kowloon Cultural Hub-Zone. Presumably the idea is that he has no connection or familiarity with the arts, so there is no conflict of interest – indeed, just no interest.)
Meanwhile, behind the scenes, Hong Kong bureaucracy feels a massive, obsessive, permanent over-reaction coming on…
We can safely predict that from now until eternity, the West Kowloon Themed Cultural Concept District will be The Place Where People Do Drugs and Die Unless We Stop Them. Every event will be subject to the most frantic, extreme and absurd security measures.
Little old ladies attending Chinese opera, already freaked out by the women's private parts problem, will have their handbags probed mercilessly. Tourists planning to check out the National Palace Museum of Stuff the Kuomintang Left Behind will have their pockets rummaged for hours. As for open-air concerts aimed at young foreign-influenced degenerates – music fans will stand in line for hours as guards sniff out and confiscate aspirin, jelly beans, asthma inhalers, yellow umbrellas and all other suspect dangerous paraphernalia.
I make a lot of wild forecasts, but this is guaranteed.