As Mainlandizing-rectification continues, Hong Kong's leaders will increasingly be forced to shed their cherished World City image and adopt a more defensive and 'anti-Western' public stance.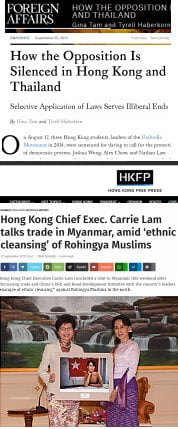 Domestically, we already see the supposedly multicultural city's British-trained top officials awkwardly embracing Beijing's Han-nationalism – for example, in urging patriotic education in schools. The recent and ongoing wave of political persecution has left them having to spout hollow Mainland-style arguments that rule of law is intact.
This will spill over onto the international stage. Take this unfortunate juxtaposition: Foreign Affairs lumps Hong Kong with army-ruled Thailand as regimes that abuse the law to silence pro-democrats; and Chief Executive Carrie Lam visits Burma in mid-ethnic cleansing to push 'Belt and Road'.
As Beijing brings Hong Kong under more direct control, the city must gradually lose its Leninism-free reputation. For example, the current United Front mouth-frothing campaign against pro-independence banners points to criminalization of opinions before long, and it is easy to see intimidation of pro-democracy individuals becoming violent.
(It's important to remember that this is nothing personal against Hong Kong. Xi Jinping's clampdown applies to Xinjiang, the Internet, churches, tycoons and everything else that petrifies him. And in Hong Kong it goes beyond dissidents: our regulatory authorities look the other way as the Communist Party starts doing corporate governance in some locally listed companies.)
Criticism from the overseas press will rise. Cornered, Hong Kong's leaders will have to abandon the 'One Country, Two Systems' pretense, and let go their former status as honorary junior members of the Free-World Rulers' Club. Their new international role will be as presentable, cosmopolitan fronts for Beijing's scowling xenophobes, useful for wooing Southeast Asian dirtbag dictators – reflecting Hong Kong's descent to a semi-autonomous, sort-of classy banana republic.