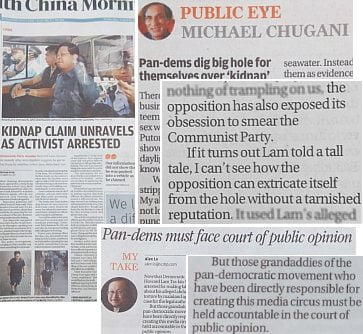 The South China Morning Post goes into a painfully contrived and disproportionate democrat-bashing frenzy today – devoting the front-page lead, laborious backgrounders, in-depth blah, a tedious editorial and pliable hack-columnists #1 and #2 to the Howard Lam saga.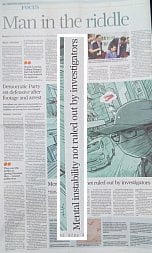 At best, this is a sad tale of an obscure member of a faded political party who is undergoing a mental-health crisis. At worst, it is an illustration of the climate in Hong Kong today, where reasonable people cannot rule out the possibility that Communist Party thugs would abduct and punch staples in an opposition figure, and do not feel they can trust the police to be politically impartial. (On cue, the HK Police almost instantly arrested Lam on suspicion of misleading them.)
The SCMP's overdone orchestrated freak-out over the story could just be cack-handed misjudgment of an opportunity to attack and smear enemies of the state. It could be a muddled smear against the cause (espoused by Lam) of the disappeared Liu Xia. More likely, editors eager to please the government calculated that a mass-mouth-froth on the issue would help discredit opposition to the location of Mainland law-enforcement at the West Kowloon rail terminus.
But also, by ramping up the Lam story, the paper conveniently distracts readers from the re-sentencing – and jailing – of activists from the storming of the Legislative Council back in 2014. (The coverage goes into the City section.)
A similar case comes along tomorrow, involving international name Joshua Wong, Nathan Law and Alex Chow. The government's use of appeals to get harsher sentences for opposition activists can be seen as part of a bigger trend in which Hong Kong people, denied representative government, are heavily punished for protesting against bad governance.
What the Communist Party wants (Hong Kong officials are simply pawns here) is a population that plays no part in politics and is intimidated or cajoled into silence and acquiescence. Creating what will look uncomfortably like 'political prisoners' will be part of that process.
The SCMP, with its avowed mission to explain China positively to the overseas audience, will perhaps be pushing much more Howard Lam in the next few days – or maybe it will be panda bears.