…a quick update on the mysterious Maison de Paris that now graces the neighbourhood around the Mid-Levels Escalator. The proprietors have placed a board outside listing what the business sells, and the teddy bear in the window is now sitting on a wickerwork chair…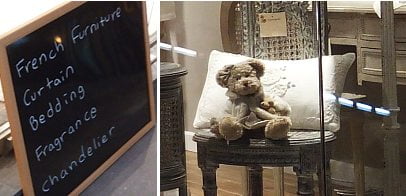 Astute observers will notice that the teddy bear has a more assertive, even truculent, attitude than before. This could be related to comments here pondering whether one possible explanation for the new French fragrance/chandeliers emporium is no less than – money laundering.
I'm with the teddy bear on this. Aside from the obvious fact that We Don't Do That Sort of Thing in the Mid-Levels, this would make a terrible money-laundering front. The classic set-up for re-cycling proceeds of crime is a currency-exchange, a bar, a pawn shop, an amusement arcade, maybe a New Territories railings supplier or some other business with a heavy cash-flow. Not sure that's very likely in this case.
(Or, of course, a bank – but obviously that would never happen in Hong Kong.)