Next to the Mid-Levels Escalator around Rednaxela Terrace, before you get up to the Mosque, is one of a series of humble storefronts. It used to be a Dutch pickled-herring-and-Edam bar called the Orange Tree, popular with the clogs-and-Heineken crowd (maybe). Then, a couple of years ago it became the Butcher's Barrel.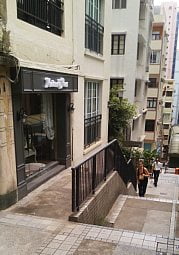 I went in once and found a classic example of that perverse rule of Soho (and other Hong Kong) retailing: whatever you sell, make sure it's something no-one needs or wants. It was an up-market deli with organic steaks, hand-crafted sausages, 'fine wines', artisanal cheeses and plump olives – all at seriously eye-popping prices. The idea was that expat/yuppie residents would drop by on the way back from their Central investment banks and pick up these luxurious ingredients to make a lavish gwailo-feast in their exclusive little apartments.
The problem, as any residential-property agent in the neighbourhood could have pointed out, is that the 20-something single foreign-banker set don't cook. They dine at nasty Lan Kwai Fong places, or get pizza delivered, or – when feeling ambitious – grab a frozen meal at Marks & Spencers down the hill and microwave it. Even my recent pickled eggs recipe would leave them wondering how you can tell when the water's boiling.
So, obviously, it soon closed. (It might have worked in a Disco Bay-type family district – or if the lavishly exorbitant food had been for dogs.) And, obviously, the place stood empty for at least six months, if not longer, while the landlord waited and waited and waited, even though no rent was coming in, for a tenant/sucker willing to pay the idiotic amount he demanded.
His patience was finally rewarded a few weeks ago when the premises became Maison de Paris.
As you glide past on the Escalator, you get a hazy glimpse of lacy and wooden stuff behind the reflective glass. A close-up inspection reveals a sofa with teddy bears, some (indeed lacy) curtains and clothing, and some elaborate lighting. It is hard to tell what is product and what is for show – I would guess that in the interests of revenue-per-square-foot, all the garments, furnishings and fittings are for sale. In any case, we can politely describe the theme as chichi.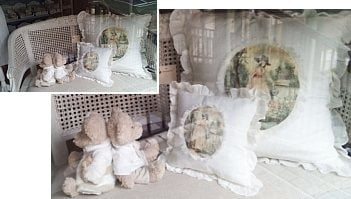 Who are the customers supposed to be?
No man would touch such hideously vile items. No Western women would either, apart from a few girls going through the age 7-9, post-pink/princess phase (but again, this is not a family area – and I don't see a rocking horse inside).
That theoretically leaves Asian females, but the ones living here are hard-bitten professionals who are into kick-boxing rather than teddy bears (the concept might suit a private estate of nouveau-rich Mainlanders). So we narrow down the demographic to Korean office-lady tourists, who are quite possibly into the Beatrix Potter sort of thing – but are hardly going to pick up a lampstand as they chew their egg tarts and consult their maps.
I have no idea. But if it was a restaurant it would appear here.
I declare the weekend open with a plea to anyone with delusional egotism and a lust for publicity and power to consider helping Regina Ip, who needs someone to take over her – slightly used but almost as-new – political party.