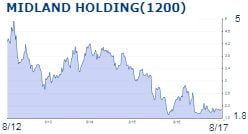 Has Buggle lost his mind? Buggle Lau, the Hong Kong media's most reliable quote-provider on property issues, works for a real-estate agency. He therefore usually cheerfully proclaims that every day is a good day to buy an apartment or three. This suits the newspapers, which depend on developers, developer-run conglomerates and mortgage-providing banks for much of their advertising, and whose tycoon proprietors are best buddies with the land-owning families.
So it comes as a shock to find Buggle blurting out something along the lines that you would be nuts to buy a home in Hong Kong at these prices…
The obvious explanation is that the poor guy has ingested hallucinogenic mushrooms and has no idea what he is saying. Another is that the property intermediaries are suffering from low transaction volumes and calculate that business might pick up if prices fell.
Former Chief Executive CY Leung's policies, ostensibly to cool the housing market, just so happened to reduce turnover of second-hand properties while pushing buyers into bidding up prices of new-build apartments with easy financing from the developers. The prices making headlines today are high because (among the other distortions) there is an artificial premium attached to the primary market, and much of the secondary market is 'missing'.
Even by Hong Kong standards, it is a perverse situation where the crappiest, most overpriced products (brand-new flats) seem the most affordable, or at least accessible
To state the obvious: as soon as a brand-new apartment is sold, it becomes second-hand and thus instantly loses some of its supposed value. Buggle and his colleagues would benefit from a more liquid second-hand market, and – happily – they can perform a socially useful service by warning suckers away from the developers' lures.