Like most people who for decades valued it as a landmark as much as a treasure of urban aesthetics, I lamented the disappearance of the famous Sammy's Kitchen cow sign (OK, bull) a couple of years back. Now, the venerable Hong Kong-style-Western-style restaurant founded in 1969 looks set to go the same way, as a new landlord has doubled the rent.
The neon bovine signage will eventually appear at the new M+ Museum at West Kowloon Culture Hub Zone.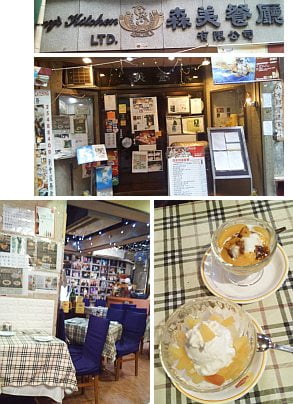 As a weekend visit confirmed, you could make a good case for preserving the whole interior as a historic monument. This is authentic 70s-80s Dingy-Formica ambience, where everything is a shade of yellowish-brown. The uninitiated might want the full secret sauce/borscht-with-everything experience, otherwise a peach melba will do – you probably wouldn't come here for the food. You have until mid-September, apparently.
What will replace Sammy's? The odd thing is, this stretch of Western still retains many of the traditional retailers – dried goods, houseware, groceries and cheap eating places.
But assuming gentrification is inevitable… Perhaps it will become a branch of Under Armour Ugly Clothes for people who think everyone else wants to see the contours of their buttocks. Or maybe one of those peculiar stores selling vast shiny PVC tubs of protein powder to inadequate pervert body-builders too dim to find protein in actual food. Or the artisanal organic bespoke hand-crafted cupcake emporiums might start creeping in from Kennedy Town in search of gritty integrity and lower rents. In some neighbourhoods, the landlord would subdivide the property into 20 cubicles all selling an identical range of iPhone covers.
But here, he might be banking on a shift into Sai Wan of the Korean tourist influx that has inexplicably inundated Central, pushing up demand for fake-genuine Olde Worlde Hong Kong stuff like egg tarts, milky bean-gloop drinks and… retro steak houses.