…in one of Hong Kong's larger Marks and Spencer Food Halls.
A humble monk walks in, clutching all his worldly possessions wrapped in simple cotton bags. He places them in a cart and slowly strolls down the aisle. He pays no interest to the muffins, or to the moist scones. He resists the midget gems, the Belgian marzipan chocolate balls and the jelly babies. He liberates his consciousness from all earthly desires as he passes the crunchy wasabi peanuts, the jars of pesto sauce and the Percy Pig biscuits. He has no use for the organic peppermint tea. He even ignores the glistening bottles of champagne…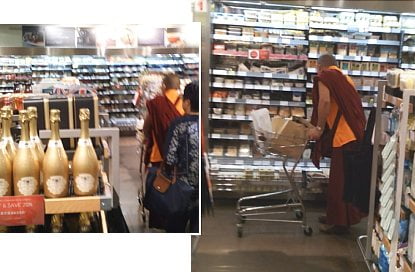 Then he approaches the dairy section. He stops and turns to the shimmering light. And he gets seriously stuck into the cheese.